Cool As Hell
(2013)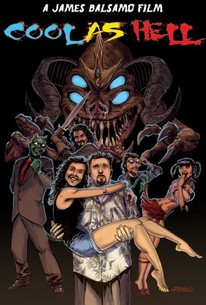 AUDIENCE SCORE
Critic Consensus: No consensus yet.
Movie Info
From the makers of Hack Job and I Spill Your Guts! Rich and Benny have always had trouble with the ladies, until they befriend a demon named Az. It's a non-stop party until a killer, soul eating beast leaps through an open portal from the underworld and starts terrorizing their city. Now it's up to Az and the boys to send the creature back to the depths of Hades where it came from, all the while looking good and doing it Cool As Hell in this horror comedy. Featuring a killer punk, hardcore and metal soundtrack and appearances from genre favorites Tom Savini and Frank Mullen as well as Andrew WK, the Meatmen and more!
Critic Reviews for Cool As Hell
There are no critic reviews yet for Cool As Hell. Keep checking Rotten Tomatoes for updates!
Audience Reviews for Cool As Hell
This year is not even half way through and already I found a top contender for my "Worst Film of 2013". So the film start with Rich (played by director/writer James Balasmo) killing people heavy on the face makeup who are meant to be zombie. Before the opening credits even start you could immediately see what is wrong with the film. You have a shot on video picture quality, a noticeable lack of budget, and non-actors. Then the opening credit appear with a terrible opening heavy metal song that meant to give us some insight on the heroes. I won't go over every specific plot detail because it has no resemblance of one. What it presented was barely even salvageable relying mostly on subplots which all go absolutely nowhere. When it comes to bad writing this has some of the worst I've seen for a so called "Horror/Comedy". It's so mindbogglingly stupid you'll have a negative IQ before reaching the end credits. One example being after our heroes look up a woman skirt in which the film pointlessly shows us her naked behind and than the woman says "I've never been more violated and so turned on". I am speechless on how idiotic that single line was. It has some clumsy segways which are mostly a main character bumping into someone and over reacting in the most annoying way possible. We are also given one of the worst and most annoying character ever written in a low budget film played by Frank Mullen. His character name is Sal, but you'll just end up calling him Prick. So every single piece of Prick dialogue has him saying the F word in every single sentence. It's so annoying and the worst part is we spend a good chuck of the film with this guy. His constant use of swear words in every line will shatter eardrums and make them bleed. One very long, drawn out, pointless scene with Prick collecting his money will make you want to see your least favorite movie. This one scene alone almost got me to quit watching, but I managed to endure it. Would you believe when I say the character of Prick is pointless. Making Prick character a big middle finger to the audience. Director and writer James Balsamo takes notes from writer director Jorge Ameer. For those who never heard of Jorge Ameer try to imagine an inept Uwe Boll who can't even record actors talking. The film has frequent audio problems that make it difficult to listen to the brain cell killing dialogue. Not even Blake Freeman who I criticized heavily in my review of "Noobz" made it difficult to listen to his badly written dialogue. James Balsamo directing is below amateurish inserting random nudity into the film to keep the audience awake. Simply inserting nudity to keep your audience does not work proven by the film Q. Though I will give credit to James Balsamo for filming the least erotic strip club scene ever. He can't even afford a tripod to hold the camera still when someone is talking. There's no reason for the shaky cam if characters are standing still on screen. He really likes heavy metal music often drowning out the dialogue. So it also has the problem of being constant noise. Cool As Hell literally feels like it came from Hell, but is nowhere being consider cool. James Balsamo fails in writing and directing in every way possible. Granted Cool As Hell doesn't offend anyone like "Noobz" does, but it's easily the worst between the two for even on a technical level it's abysmal. I disliked so many things about this movie, but it's not worth my time and it's definitely not worth your time nor risking your brain to completely rot away.
Caesar Mendez
Super Reviewer
Cool As Hell Quotes
There are no approved quotes yet for this movie.