Coonskin
(1975)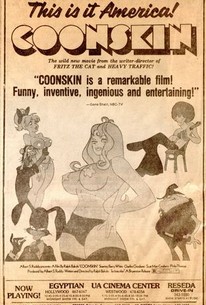 AUDIENCE SCORE
Critic Consensus: No consensus yet.
Movie Info
Fritz the Cat and Heavy Traffic helmer Ralph Bakshi subsequently directed the über-controversial animated feature Coonskin (aka Streetfight, 1975). Bakshi opens and closes the film with a live-action tale that stars Scatman Crothers, Miami Vice's Philip Michael Thomas, Charles Gordone, and Barry White; it recounts the adventures of three African-American men who escape from prison and are later gathered up. In between, an animated tale has animal characters with stereotypically black traits -- Brother Rabbit (voiced by Thomas), Brother Fox (voiced by Gordone), and Brother Bear (voiced by White) -- entering a white-dominated ghetto environment and diverging into different paths; one becomes a crime overlord, the second sells the first out to La Cosa Nostra, and the third establishes himself as a media-exploited sports icon. Completely misread as a racist work upon release, the film actually entails Bakshi's satirical excoriation of bigotry via the tongue-in-cheek use of black urban stereotypes. The director laces the film with profane ghetto dialogue and street slang; though animated, this is not a picture for children. Variety wrote of the work, "Beyond Bakshi's cinematic style, his stories seem haunted by a worldliness that is torn between cynicism and tortured humanism. There is heart in his plots, so superficial putdown is totally absent. What is present [is] the evidently sincere empathy of a social surgeon." The legendary Albert S. Ruddy (The Godfather, Cloud Nine) produced.
Critic Reviews for Coonskin
There are no critic reviews yet for Coonskin. Keep checking Rotten Tomatoes for updates!
Audience Reviews for Coonskin
I interpreted this controversial, inflammatory film as an analysis of stereotypes and prejudice in 1970s America. Peppered with hideous racism, violence and sexual obscenity, this is a film that took me off guard. Bakshi's vision is in no way easy to handle or pinpoint, and at times it isn't easy to decipher what his aims are. That being said, this is an exhilarating vision full of wild ideas and I was onboard from the moment it began. It reminds me a lot of one of my favorite novels: Last Exit to Brooklyn by Hubert Selby Jr. In terms of its narrative approach and subject matter, it bears a lot of resemblances to that book. I think it's unfortunate that this movie has been judged the way it has, because I personally believe it has a lot of artistic merit.
½
Animated / live action kind of retelling of Songs of the South minus the cutes plus racism and set in Harlem gangster town. I don't really know what to say about this one. Interesting, different, satirical, ugly, unique. With Barry White as a boxing bear.
Groundbreaking as it was when it premiered in 1975,this was also very controversial. Set in the gritty streets of Harlem during the 1970's, this was crazy animation at the next level and this went way beyond Bakshi's previous works with a hint of Disney's "Song of the South" complete with stereotypes and all of the above. Complete with gangsters,drugs,and the mafia along with the rest of the crew. Could you believe that one of the biggest R&B singers of his day Barry White chose to do voicework for this? He did along with Scatman Crothers in this masterpiece of animation cimema.
Mister Caple
Super Reviewer