Corked
(2009)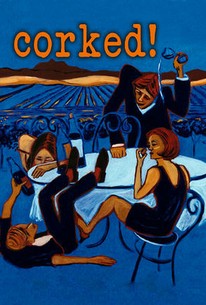 AUDIENCE SCORE
Critic Consensus: No consensus yet.
Movie Info
Northern California's wine country becomes ground zero for satire in this mockumentary comedy. A handful of California vintners are vying for top honors in an upcoming wine competition, and three wine makers in particular are pulling out the stops in their effort to win. Wildly pretentious Donald Smyth (Ross Clendenen) runs the Moreno Russo Winery and wouldn't dream of visiting his vineyards in anything less than a designer suit, though he can't decide if the design of his headquarters is French or Italian. Gerry Hannon (Jeffrey Weissman) is a do-it-yourself kind of guy who prides himself on not allowing anyone else to put their hands on his product. Dane Phillips (Todd Norris) manages the vineyards for Pena Cellars and likes to show off his latest gadgets to help protect the grapes, even if they don't often work. Gary (Ben Tolpin) and Scott (Rob Reinis) are a pair of PR men who are been hired to help promote the contest and the winemakers, even though one is a recovering alcoholic who doesn't touch wine and the other prefers beer, the simpler the better. And Richard Parsons (Marte Mejstrik) is a self-centered wine critic who has come to judge the various entries. Corked was the first feature film from writers and directors Ross Clenenden and Paul Hawley; Clenenden also stars as Donald Smyth, and Hawley's family runs a real-life California wine company. ~ Mark Deming, Rovi
Rating:
NR
Genre:
Directed By:
In Theaters:
Runtime:
Watch it now
Cast
Critic Reviews for Corked
There are no critic reviews yet for Corked. Keep checking Rotten Tomatoes for updates!
Audience Reviews for Corked
½
Corked tries ... and that says it all. The filmmakers -- Paul Hawley and Ross Clendenen -- attempt to mockumentize California wine country and the wine snobs who come with it ... and it does make fun of them while gleefully holding a mirror to their pretentious faces. The subject IS a delectable one (like a wine grape) and it has near-limitless possibilities. Corked does not fully succeed as it feels/looks very-much like a student-film and it is not smart enough (itself) to conceal its abhorrent disdain for these better-than-thou wine-sipping elitists (those wine-snobs). Corked doesn't come across as a realistic fake film ... and that is where it fails because we know these "characters" are trying to intentionally make these people out to be horribly vapid individuals (who indulge in wine). It all feels "pretend" and it shouldn't. Had Corked been directed/written/produced [etc] by the mockumentary-cinegod Christopher Guest (Waiting for Guffman, Best in Show, A Mighty Wind), this could have been genius (I give them props for thinking-up this potential goldmine, though) as the likes of Catherine O'Hara, Fred Willard, Jennifer Coolidge and/or Parker Posey could have taken this to some lofty, loony, drunken heights. Delivering a line such as "I don't associate with those who drink wine coolers" could have been a wicked delight coming from their mouths; but as is ... we have some amateurs (I wish this could have been done by the Guest-troupe [for REAL]) who come across as slightly pretentious themselves by thinking they are both cute and smart-enough to trick us into believing we aren't watching real-life wannabes/pretenders. For a mockumentary to win or work, the "pretend" and "try" should NOT be this highly visable or apparent. Sadly, the film is "corked" because the audience can see what we shoudn't be seeing.
Thomas Williams
This movie attempts to skewer the arrogance behind wine tasting. While it is not overtly political, it does its absolute best to lacerate wine snobs, with politically incorrect humor.
Lee Mayo
Discussion Forum
Discuss Corked on our Movie forum!
News & Features