Cornbread, Earl and Me
(1975)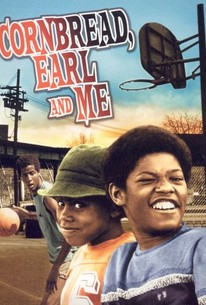 AUDIENCE SCORE
Critic Consensus: No consensus yet.
Cornbread, Earl and Me Videos
Cornbread, Earl and Me Photos
Movie Info
Cornbread (Keith Wilkes) is an African-American youth who strives to escape his ghetto surroundings. He does so by becoming a high school basketball star--and the idol of the other youngsters in his community. On the verge of starting college on a scholarship, Cornbread is mistakenly killed by a police officer. Keith Wilkes, who plays the title role, was in real life an all-American at UCLA. Cornbread, Earl and Me, which was based upon Ronald Fair's novel Hog Butcher, marked the big screen debut of Laurence Fishburne.
Rating:
PG
Genre:
,
Directed By:
Written By:
In Theaters:
On DVD:
Runtime:
Studio:
HBO Video
Critic Reviews for Cornbread, Earl and Me
All Critics (3) | Fresh (2) | Rotten (1)
Though a few overwrought scenes are reminiscent of a TV movie, on the whole this is an involving and touching film.



Arkansas Democrat-Gazette
Audience Reviews for Cornbread, Earl and Me
Good early 70's movie about a positive role model mistakenly gunned down by the fuzz. A pre Apocalypse Now Laurence Fishburne is one of Cornbread's friend's affected by his loss and along with his mother has to clear a police cover up. You've got Bernie Casey and Moses Gunn in the mix too. The music is cheese fun. Gotta love the song that goes "He's Cornbread."
Rodney Eckrich
½
Not Really Blaxploitation at All By all rights, of course, it ought to be. It was made in 1974 (Rotten Tomatoes has two options for the same movie; this is the wrong one). It's set in a ghetto. (I kind of missed where, but I'm guessing Chicago, because the novel it's based on is called [i]Hog Butcher[/i].) Almost all the major characters are black; when they aren't, they are The Man. Heck, it was brought to us by the fine people at American International Pictures. Yet for all that, it is missing what I think to be some of the essentials of the genre. Yes, there are assorted petty criminals, but they're almost beside the point almost all the way through. Our Hero isn't any kind of tough detective; he's a boy making a hard choice. The goal isn't even to improve the way of life for the people in the ghetto. I mean, okay, that's probably an indirect effect of the events described, but the goal is to make individual lives better, and it mostly involves getting people out. The "Me" from the title is Wilford Robinson (Laurence Fishburne in his first film role!), a twelve-year-old boy whose cousin, Nathaniel "Cornbread" Hamilton (Jamaal Wilkes), has a basketball scholarship to college. He's going to be leaving at the end of the summer. Wilford idolizes him, constantly telling his new friend, Earl Carter (Tierre Turner), that Cornbread is the greatest basketball player in the country. Cornbread goes along with it in a good-natured sort of way, the whole while resisting the drug dealers and numbers runners (One-Eye, played by dear Antonio Vargas) who want him to work for them. It'll all be okay soon, though, because he's going off to college--meaning he's getting out of the ghetto. Only one day, two policemen (Bernie Casey and Vince Matorano) are chasing some thug. They lose sight of him for a second, and they see Cornbread running down the street. He's merely trying to dodge the rain, but they think he's the guy they're looking for, and they gun him down. No movie called [i]Cornbread, Earl and Me[/i] has any right to be worth watching, but this actually is. Now, it's obvious that Francis Ford Coppola never saw this movie, because he didn't realize how young Laurence Fishburne was when he showed up for casting for [i]Apocalypse Now[/i]. However, if he had seen it, what he would have seen was a really impressive performance for a thirteen-year-old boy. The range of emotions he was called on to portray was beyond a lot of adult actors--sadly, including a lot of the adult actors in this movie. There's only so innocent someone of his age could have been in the situation where he grew up, but the last of that innocence is burned away over the course of the movie. Usually, this process in film involves sexual awakening, which is about the only thing we don't get here. His mother, Sarah (Rosalind Cash), has a boyfriend, and Wilford is aware of what goes on between them. But the pressure of the rest of the world is a bit of a surprise. It's worth noting that not all the black people in this are heroes, and not all the white ones are villains. Officers Atkins and Golich made an honest mistake. They weren't assuming that any black kid of Cornbread's age was a criminal; they really did think he was the guy they were chasing. It is Sergeant Danaher (Stefan Gierasch) who tries to engineer a coverup, a coverup which includes threatening to cut the Robinsons' welfare. However, it is a black woman who accuses Sarah of not really having a heart problem and just not wanting to work. Certainly little of the community loyalty is stronger than the fear when threats begin. It's even true that a few government bureaucrats show more compassion than some of the people on the street. The film does not paint a simplified life of black versus white or even poor versus not-poor. (I'm not sure we ever see any truly rich people.) It's more complicated than that. Yes, this film got made when and where it did because of the sudden realization that there was money to be had in marketing films to black audiences. However, true blaxploitation--a genre I love even though most of it is very bad--requires a certain simplified worldview that this film just doesn't have. One-Eye is as whimsical and charming as Antonio Vargas characters are legally required to be, and while he's part of the problem in his neighbourhood, he's not as bad as the drug dealers and the thugs. The cops are trying to do a good job under difficult circumstances; Officer Atkins is even just a cop while he saves up the money to go to college and be a teacher. No, we don't go into a lot of detail about what Cornbread's chances of getting into the NBA actually are. But Sarah, at least, seems aware that just going to college is a good start for him, and it's what she wants for her son. Even if the drug dealers were defeated by a Cleopatra Jones who happened to stop by, that wouldn't fix the problems. That's why it was so important for Cornbread, and later Wilford, to get out.
Edith Nelson
This film was something that hung around on the TiVo forever, but when I finally watched it I was immediately struck by the desire to run out and buy a copy, as it's a very well made look at the corruption that rears its head when a rising basketball star and neighborhood inspiration is shot down due to a case of mistaken identity. Recommended.
Bill Bryant
Cornbread, Earl and Me Quotes
There are no approved quotes yet for this movie.