Corpses
(2004)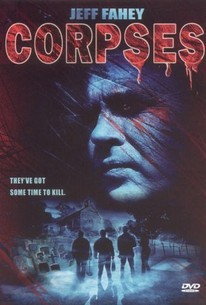 AUDIENCE SCORE
Critic Consensus: No consensus yet.
Movie Info
In this low-budget horror comedy, Jeff Fahey plays Captain Winston, a policeman investigating the illicit doings of a local mortician named Fred (Robert Donovan). Fred, it seems, has been experimenting with a chemical formula that brings dead bodies back to life. His latest version of the serum is successful, but there's a catch -- his revived corpses only stay alive for an hour at a time. But when a banker threatens to foreclose on his funeral parlor, the mortician is able to mobilize an army of the undead to do his bidding and get revenge. The mortician is soon using his charges to settle scores against a number of people he doesn't like, but when his assistant finds out, he realizes the mortician must be stopped. Corpses also stars Robert Donavan and Tiffany Shepis.
Rating:
R (horror violence/gore, nudity and language)
Genre:
Directed By:
Written By:
In Theaters:
On DVD:
Runtime:
Studio:
Urban Girl Productions
Critic Reviews for Corpses
There are no critic reviews yet for Corpses. Keep checking Rotten Tomatoes for updates!
Audience Reviews for Corpses
Brain-dead on arrival tongue-in-cheek zombie flick in which a vengeful mortician uses a serum to bring the dead back to do his bidding for an hour at a time. The zombies are less than convincing, particularly the undead security guard with the supposedly severed arm clearly visible tucked under his shirt. The characters are stereotypical; creepy mortician, bitchy ex-wife who wants to turn his mortuary into a strip mall, straight-laced lawman, and rebellious teenager played by Tiffany Shepis, who is far and away the only good thing about this limp straight-to-video plopper. Even Jeff Fahey, who plays the police chief and would later appear in "Lost," is useless here, even more lifeless than the zombies themselves. "Corpses" owes a great deal to "Re-animator," but it lacks the wit and talent that made the latter film a horror classic. You may sit through it all -- I often found my attention wandering whenever Shepis wasn't on screen -- but you won't remember anything about it. I've already forgotten at least half of it. If you forget it right now, you'll save yourself an hour and a half.
Brian Seitzman
Quirky low-budget Zombie comedy. Not as funny as it tries to be and it all comes off a bit too silly, but there's a couple humourous moments. Acting isn't the best and the plot is unoriginal and stale. It's got a bit of gore, nothing too disgusting but it's satisfactory enough, as was the bare flesh on show courtesy of a couple of hotties. Poor film overall, but there was enough entertainment to see me through to the end.
½
A mortician at a funeral home finds a way to bring back the dead for an hour at a time to do his dirty work. The town's chief of police (Fahey), gets suspicious and tries to get to the bottom of the mysterious and brutal deaths and events happening in the small town before too many people die. I'm usually a fan of Rolfe Kanefsky's films (The Hazing, There's Nothing Out There), but this one has to be one of my least favorite ones. The overall acting in this film was pretty atrocious, though it was nice to see Jeff Fahey in a lead role, as well as Tiffany Shepis, who is always fun to look at. It's so-so on the gore, and the humor in it never truly gets off the ground. Overall, not that great, but it killed the time for me.
Jason Duron
Corpses Quotes
There are no approved quotes yet for this movie.