Corvette Summer
(1978)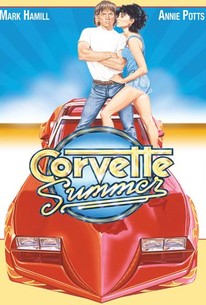 Movie Info
The Corvette Ken Dantley's (Mark Hamill) class has been restoring in their high-school shop class is nearly completely fixed up. One day, the students walk in and it is gone - apparently stolen. Ken is larking about in Las Vegas when he spies a car that looks suspiciously like the Corvette he knows so well. He begins looking for the car, but in the meantime Vanessa (Annie Potts), propositions him on the street. Intrigued, he follows the girl back to her van, which is equipped with a waterbed. She hopes to use the van as a travelling brothel, with herself as the bill of fare. Instead, she helps him look for the missing car, and as they search, the two of them fall in love. Though praised by critics, Mark Hamill's second starring feature did poorly at the box-office, and stalled his career. Corvette Summer marks the first star appearance by Annie Potts, perhaps better known for her role in the U.S. television show Designing Women.
Critic Reviews for Corvette Summer
Audience Reviews for Corvette Summer
It was enjoyable to see Hamill in something other than Star Wars; and Annie Potts is smokin' hot in this flick.
Phillie Em
Mainly known for being Mark Hamill's first performance following "Star Wars." A fairly breezy coming-of-age road comedy, created by Matthew Robbins and Hal Barwood, who collaborated many times, highlighted by "Dragonslayer," a personal favorite of mine! The movie goes well throughout until it gets tangled up in its own plot at the end. Hamill gets way-too overworked at times, overacting like he did early in his career. A pretty good late-night bet.
John Miller
½
I really enjoyed this movie, mostly because it stars two of my favourite actors, but it is also a fun comedy adventure about Hamil's character trying to get his car back.
Corvette Summer Quotes
There are no approved quotes yet for this movie.
Discussion Forum
Discuss Corvette Summer on our Movie forum!