Corvette Summer
(1978)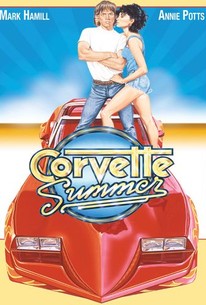 Movie Info
The Corvette Ken Dantley's (Mark Hamill) class has been restoring in their high-school shop class is nearly completely fixed up. One day, the students walk in and it is gone - apparently stolen. Ken is larking about in Las Vegas when he spies a car that looks suspiciously like the Corvette he knows so well. He begins looking for the car, but in the meantime Vanessa (Annie Potts), propositions him on the street. Intrigued, he follows the girl back to her van, which is equipped with a waterbed. She hopes to use the van as a travelling brothel, with herself as the bill of fare. Instead, she helps him look for the missing car, and as they search, the two of them fall in love. Though praised by critics, Mark Hamill's second starring feature did poorly at the box-office, and stalled his career. Corvette Summer marks the first star appearance by Annie Potts, perhaps better known for her role in the U.S. television show Designing Women.
Rating:
PG
Genre:
, ,
Directed By:
Written By:
In Theaters:
On DVD:
Runtime:
Studio:
WARNER BROTHERS PICTURES
Critic Reviews for Corvette Summer
Audience Reviews for Corvette Summer
Mainly known for being Mark Hamill's first performance following "Star Wars." A fairly breezy coming-of-age road comedy, created by Matthew Robbins and Hal Barwood, who collaborated many times, highlighted by "Dragonslayer," a personal favorite of mine! The movie goes well throughout until it gets tangled up in its own plot at the end. Hamill gets way-too overworked at times, overacting like he did early in his career. A pretty good late-night bet.
John Miller
I Must Admit It's a Nice Car This movie was rated PG on its initial theatrical release. I find this fascinating. I mean, think about it. The main character's love interest has the dream of being a prostitute on the grounds that "every amateur eventually goes pro." Would you get that in a PG movie today? Now, I assume the MPAA just missed the implication that someone late in the movie was also propositioning Our Hero for a spot of prostitution, because the person who brings it up is male, but still. You try to get away with that in a PG-rated film today. It's weird to me what standards have changed and how in ratings from today versus thirty-five years ago. There isn't much swearing in this, but there is a lot of what has begun to be called "adult language." Even though the movie is in theory about a Boy and His Car, in practice, there's a lot of it that's about sex instead. Kenneth W. Dantley, Jr. (Mark Hamill), is a high school senior who is taking an advanced shop class. He and his classmates tour a junkyard, and Ken sees the shell of a Corvette Stingray just before it is crushed. He and the others completely rebuild it, including installing a right-hand drive. It is a thing of beauty, and the class takes it out so they can all drive it after they have finished their work on it. While Kootz (Danny Bonaduce) is getting sodas for everyone, the car is stolen. Ken is heartbroken and refuses to accept that anyone would chop a beautiful car like that into parts. He is told that someone saw it in Las Vegas, and he hits the road. He doesn't have a lot of money, so he hitchhikes, which is how he meets up with Vanessa (Annie Potts). She is going to Las Vegas to be a prostitute. She invites Ken to be her first paying customer, even. However, all he cares about is the car. His first lead was wrong, but before he can hitch back to LA, he sees the car and decides to stay in Vegas until he finds it. I'm curious as to what the school's original plan for the car was, to be honest. It seems that they mostly scrounged the parts, not bought them, and the shell couldn't have set them back very much, given that it was about to be crushed before they bought it. They probably got a lot more out of it than they spent, all things considered, and the car is expressly said at one point to be the property of the school. So, what? They sell it, and the proceeds go to fund the next year's advanced shop class? The movie never explains this, probably because most people don't care, but it's a thing that kind of struck me. The shop teacher, Ed McGrath (Eugene Roche), says he never would have expected Ken would fall so in love with that car, but I honestly assume that has to happen most years. No, he's not into girls; he's into cars. And, of course, it's possible to be both, and it isn't uncommon. So, what? Do they hope one of the kids can afford to buy the car? I'm really curious, and the movie isn't. I wasn't thrilled with the whole Vanessa subplot and how her life goal is to be a Las Vegas prostitute. The movie jokes about it, but it is often a pretty grim life. I'm also kind of curious as to why she decided that Vegas is the way to go. Possibly she assumed that it's a better life for Vegas prostitutes than LA ones? Again, the movie isn't concerned with this, even though it's the kind of thing that does actually matter. It also bothers me that a woman going from promiscuous to prostitute is some kind of wacky plot. I don't in theory have a problem with prostitution, but I have a problem with how this movie treats it. It's also worth noting that we have no reason to believe that Vanessa ever successfully turns a trick, and she is the only prostitute we see except for Ken's two minutes of looking for her when he thinks she's "working" and before he finds out that she is, indeed, working--at a burger joint. The only money we see her take is Ken's two dollars. There are worse movies out there, but the only reason anyone still remembers this one--indeed, the only reason I watched it myself--is the Mark Hamill connection. It isn't a notably better or worse movie than some of my summer tradition films; it's silly and low-quality, but so are some movies I love a great deal. There's not a whole lot of payoff in the movie, and there's one of the silliest explosions I think I've ever seen, and that's pretty much it. This movie is very much of its era, for good and ill. I don't think Mark Hamill has anything to be ashamed of, here, but I also don't think it's all that surprising that it did not launch his career beyond Luke Skywalker. Carrie Fisher did no movies between episodes four and five, and Harrison Ford did [i]six[/i], including [i]Apocalypse Now[/i], and he followed five up with [i]Blade Runner[/i]. Mark Hamill keeps himself busy these days, but no one knowing him from only this movie would think he had star potential. It's just not that kind of movie.
Edith Nelson
½
I really enjoyed this movie, mostly because it stars two of my favourite actors, but it is also a fun comedy adventure about Hamil's character trying to get his car back.
Corvette Summer Quotes
There are no approved quotes yet for this movie.