Cosmos: War of the Planets
(1977)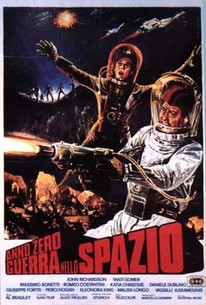 AUDIENCE SCORE
Critic Consensus: No consensus yet.
Cosmos: War of the Planets Photos
Movie Info
While lost in space, a ship's crew battles its enemies.
Critic Reviews for Cosmos: War of the Planets
There are no critic reviews yet for Cosmos: War of the Planets. Keep checking Rotten Tomatoes for updates!
Audience Reviews for Cosmos: War of the Planets
It was indescribably bad. It gets the extra half star for being so awful it was funny. Seriously, nothing made sense. The writing was just ridiculous. It's like they were making it up as they went along.
Erik Dahlman
George Lucas is probably thankful for this movie, bc it does take some heat off of him for The Star Wars Holiday Special.... I am not a fan of the idea that a movie can suck so much and be so terrible that it can, or should, be perceived in any way that which is positive but, at least in description this movie is an exception, fore this movie is so STUPID that it is "a movie almost awesome in its badness", to borrow a phrase! They actually sift music from other films, horror movies & documentaries mostly, & remade it with something that sounds like a 1950s synthesizer...to add to the soundtrack, which is probably the best thing about the film ironically... The ending is actually far more climactic than I would even have imagined giving them credit for & is probably the 2nd best thing about the film, and I even concede that the women do look good in their figure-hugging outfits, but (...it's not like they get naked!), nothing is redeemed & there is & shall forever never be no forgiveness for this excruciatingly lame-ass sh!t-pile!!
Morpheus One
2001 a space odyssey came out in 1968, Nine years later, War of the Planets! It is a mystery for whom this movie was made for. It is so poorly done, one doesn't know where to start. No plot, crummy effects, stilted acting, it looks like it was shot in italy and dubbed in english, but that does not seem to be the case. Like a star trek plot jumble, this film bounces from plotline to plotline. no one involved seemed to be taking it seriously, therefore it is seriously bad.
ivor barrie
Cosmos: War of the Planets Quotes
There are no approved quotes yet for this movie.
Discussion Forum
Discuss Cosmos: War of the Planets on our Movie forum!