Counsellor at Law
(1933)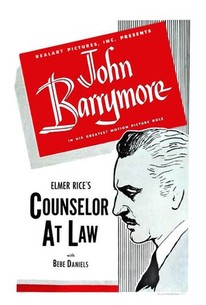 Movie Info
Adapted from the play by Elmer Rice, this film is the story of a successful Jewish lawyer George Simon. Simon's wife and children look down upon him because of his humble upbringings, while his mother reprimands him for turning his back on his heritage.
Rating:
NR
Genre:
,
Directed By:
Written By:
In Theaters:
On DVD:
Runtime:
Studio:
UN
Critic Reviews for Counsellor at Law
Audience Reviews for Counsellor at Law
imagine my surprise to find a movie I hadn't seen from my fave old Hollywood director and its a precode gem= double happiness!!
Greg Wood
John Barrymore gives an amazing performance. This is one of his finest roles. The entire cast actually is quite good. Great pace, very well written with nicely developed characters. Very skillfully combines humor and heavy drama, thanks to William Wyler's superb direction.
James Higgins
This movie is set in an office in the Empire State Building. This is never actually important to the plot. However, the building was two years old when the movie came out--and presumably less than that when the play did!--and so had the advantage of novelty. Clearly, everything was very [i]modern[/i] if it happened in the Empire State Building. John Barrymore plays George Simon, now a rich and powerful attorney who grew up poor. (The movie summary on IMDB, practically the only supplemental information they have for this film, says he's Jewish, but I missed it.) He has married well. He is generally successful in his cases; he works a wide range of them, apparently preferring not to focus on any one branch of the law like a normal big-city lawyer. We see a client he's gotten off for murder. We see him interact with a woman from the Old Neighbourhood, who needs help with her wild anarchist son. And we see him deal with the aftermath of having faked an alibi for an old client. Obviously, the client cannot be retried for the crime; that would be double jeopardy. However, it is really, really not good for a lawyer to do that. The Bar Association takes a dim view of it, as does, you know, the law. Obstruction of justice and suborning perjury, they call it. Jack McCoy would shout at him. Then again, Jack McCoy shouts at [i]everyone[/i], so that doesn't mean much. I didn't really get into this movie much. I can't fault Barrymore for it; I can't fault William Wyler, the director. I think it must be the script. There is one moment of passion--where the anarchist (Harry Becker, played by Vincent Sherman, himself investigated by HUAC) criticizes George Simon for abandoning his roots to be the kind of lawyer who has an office in the Empire State Building. However, even when Simon is about to hurl himself out his office window, he doesn't seem all that worked up about anything. His wife leaves for Europe until he sorts out his problems; he doesn't care. He does, it seems, care about his work. The needs of a client are what drive him away from that window. Perhaps that's the point. It would be nice to believe there was one.
Edith Nelson
Counsellor at Law Quotes
There are no approved quotes yet for this movie.