Counter Investigation
(2007)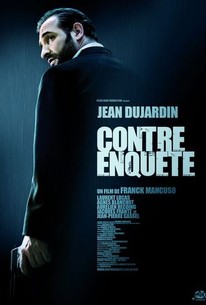 AUDIENCE SCORE
Critic Consensus: No consensus yet.
Counter Investigation Photos
Movie Info
Veteran screenwriter Franck Mancuso (36 Quai des Orfevres) helmed and penned the script for the French-language detective thriller Counter-Investigation (AKA Contre-enquête), loosely adapting for the screen American writer Lawrence Block's short story "Like a Bone in the Throat." The chilly tale unfolds in the Parisian suburbs, where happily married police captain Richard (Jean Dujardin) makes the fatal decision to pass up an opportunity for a bike ride with his nine-year-old daughter Emilie (Alexandra Goncalvez), in favor of department business. During Richard's absence, Emilie slips out for a rendez-vous with a young boy of like age - and not long after, joggers discover her body in the woods, raped and beaten to death, the victim of an apparent maniac. Richard's partners arrest the most likely suspect, pedophile Daniel Eckmann (Laurent Lucas) who first denies, then confirms his involvement. In time, however, Daniel writes long letters to Richard from prison, pleading his innocence and pointing to another culprit - the serial killer Salinas (Jean-Francois Garreaud). As an initially reluctant Richard investigates, his astonishment builds upon coming face-to-face with the conclusion that all of the evidence does indeed point to Salinas; to his wife's (Agnes Blanchot) chagrin, the detective thus works toward exonerating Daniel and arraigning Salinas for the death of his young daughter. Contre-enquête represents Mancuso's first directorial assignment; as a screenwriter, he takes a number of liberties with the story, making the necessary cultural adjustments for a French setting.
Critic Reviews for Counter Investigation
There are no critic reviews yet for Counter Investigation. Keep checking Rotten Tomatoes for updates!
Audience Reviews for Counter Investigation
wasnt bad, biggest positive was the different arc/twist as opposed to most films of this nature. Def glad they went w a low runtime of 83 mins as anything more would have just bloated it down/the script would have needed to add much more story to a semi thin current.
Jason Kraynek
½
A good looking movie, with good actors, an interesting plot twist and zero emotional involvement. This entire film is too clinical and too arms-length to share in the father's sadness and anger, which is sort of strange considering how shocking the circumstances of his child's murder are. In the end, it's at least a brisk and refreshing hour and twenty minutes, but perhaps they should have added in about 20 more minutes of character establishing shots and plot.
Jenna Ipcar
Dujardin plays Richard Malinowski, a police detective married to an anesthesiologist. He's an upright guy, happily married, with a beautiful nine-year old girl, Emilie. The movie opens with Richard and Emilie having breakfast in their very lovely home one happy morning while mom is working her shift in the hospital. The phone rings, Richard answers the phone call, and leaves his little girl home. That was the last time he saw her alive. Counter-inquiry grabs you from the start. It is a gripping murder mystery, the story is compelling, the characters are believable, and Dujardin's performance breaks your heart. I won't give away the plot. This is an excellent film that grabbed me from the start. .
Fausta Wertz
Counter Investigation Quotes
There are no approved quotes yet for this movie.
Discussion Forum
Discuss Counter Investigation on our Movie forum!