Countess Dracula
(1971)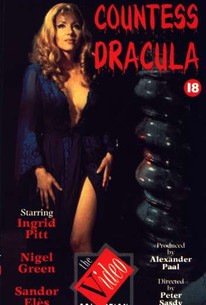 AUDIENCE SCORE
Critic Consensus: No consensus yet.
Movie Info
This excellent period horror from Hammer Studios, stars the voluptuous Ingrid Pitt as an aging, foul-tempered countess who discovers a radical new beauty plan that involves bathing in the blood of virgins. Miffed at having to share her late husband's estate with her teenage daughter, she decides to have the girl kidnapped so she can take her place, thanks to her newfound girlish appearance. This youthful illusion is fleeting, however, wearing off quickly and prompting the countess to slaughter several more young wenches in order to maintain it. Her addiction to blood and beauty rapidly consumes her, and she succumbs to madness... which leads to her ultimate horrific downfall during her own wedding. There is no direct connection made to Hammer's Dracula series, aside from the title and some vague whispers of "Countess Dracula" on the soundtrack during the film's closing shot. Instead, the premise is inspired by the deeds of a real-life murderess -- Elizabeth Bathory, a 16th-century Hungarian noblewoman who was reputed to have bathed in the blood of more than 600 murdered virgins.
Critic Reviews for Countess Dracula
All Critics (3) | Fresh (1) | Rotten (2) | DVD (1)
Basics are covered well by Sasdy, who delivers an interesting take on this devil's pact plot, wisely emphasizing Pitt's allure, his cinematic weapon that gives Countess Dracula the bite it deserves.
There's barely enough material here to fill a 22-minute episode of The Twilight Zone, let alone a full-length movie.
It's a Hammer production, so you know what to expect (or you should!).
Audience Reviews for Countess Dracula
½
Hammer films compelling period piece horror drama concerning the aging Countess Elisabeth Nádasdy, played brilliantly by the late great Ingrid Pitt, who after the death of her husband is left in sole possession of her great estate. No longer able to seduce young men, the old woman grows jealous and discontented; until she accidentally discovers that she can restore her youth and beauty by bathing in the blood of virgin girls. The effect is only temporary, and regular blood baths are required to stay in her youthful state, it begins to require ever more young victims and the trail or bloodless corpses is beginning to arouse suspicion. Fine direction by Peter Sasdy, with solid supporting performances from Nigel Green, Sandor Eles, Maurice Denham, Lesley-Anne Down, Patience Collier, and Peter Jeffrey. Ornate and exquisitely detailed costumes and settings; contributing to a rich-looking production that totally disguises the film's low-budget. A captivating motion picture. Highly Recommended.
Danny Rovira
Super Reviewer
A very poor version of Countess Elizabeth Bethory.
½
One of the best Hammer horror films in my opinion.
Countess Dracula Quotes
There are no approved quotes yet for this movie.