A Countess from Hong Kong
(1967)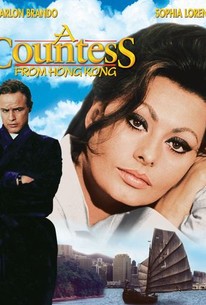 A Countess from Hong Kong Videos
A Countess from Hong Kong Photos
Movie Info
Written, directed and composed by Charlie Chaplin, his final film revolves around Russian emigre countess Natascha, forced into prostitution in Hong Kong, who stows away in wealthy American Ogden's stateroom to blackmail her way to the States.
Critic Reviews for A Countess from Hong Kong
All Critics (5) | Fresh (3) | Rotten (2)
Sadly, Chaplin's last picture, a slender, old-fashioned bedroom farce, is a misguided effort in which neither Brando nor Sophia Loren are well cast.

Both the shipboard ball sequence and the climactic scene (both involving dance) are pure bliss, and Chaplin's handling of the widescreen format and color are surprisingly assured.

Mountain Xpress (Asheville, NC)

Audience Reviews for A Countess from Hong Kong
Chaplin's last film and the only one in color, a funny, delicious screwball comedy with very fine performances by a great cast - except Tippi Hedren, who is not really in tune with the others. And the chemistry between Brando and Loren is phenomenal.
Carlos Magalhães
Super Reviewer
Way too tame for its subject matter. Marlon Brando is deadly wooden, he's obviously not trying, so he's totally miscast. Loren is very beautiful, but Brando fails to project any charisma between them (and so Loren fails as well). Just super bland movie, would never have been able to tell this was directed by Charlie Chaplin, it's sad this was his last film; just really uninteresting and not funny.
Matt Heiser
½
I won't say I laughed till I cried, but I did laugh. Marlon Brando does a great job as a celebrity diplomat in trouble. Brando gets stuck with Loren. Both these super celebrity actors brought to the screen a fun tour de force on the high seas. Try, just try to count how many the times the cabin doorbell buzzes and the doors open and close in this Chaplin like plot. [img]https://encrypted-tbn1.gstatic.com/images?q=tbn:ANd9GcT1GJnKBC8cKckl85OakXgOUJZRiVTzV9ah0ZMppOjbXDOPS_EX[/img] Brando considered the film a disastor for him due to his disillusionment with Charlie Chaplin as a person and director Charlie Chaplin's sons and daughter had roles in the film as well as a small one for himself. His son had a supporting actor role as Harvey with much screen time close to Brando. Almost half the critics on RT disliked the film. Leonard Maltin didn't care for it either. But I guess I don't know a bad movie when I see one because the fast paced first hour of the film (all shot within a two room ship cabin) is worth watching Brando do comedy. He did it in Bedtime Story with David Niven and he does it here masterfully. [img]https://encrypted-tbn2.gstatic.com/images?q=tbn:ANd9GcQYPnJ9wlpg0MFIAj1Lwzxty_u2JLUKDBtdmk8R8gXGsorOTepNWg[/img] Brando with girls telephone numbers in lipstick His problem stowaway, Sophia Loren can be quite the comic herself. Both Loren and Brando break away from their awesome careers of high drama to create a respectable romance comedy, shot in that late 1960's fashion with director Charlie Chaplin even making cameo appearances as a ship's crew member. [img]https://encrypted-tbn1.gstatic.com/images?q=tbn:ANd9GcQPTJy9GihIBCxA-H6D_gKyqBEa0Wb2RxnGTAzdY5h6uG8Yp14T[/img] Its hijinks on the high seas for Brando and Loren, both trying not to seen together in Brando's posh cabin. Its worthy of watching if you like seeing Brando and Loren totally out of their normal screen roles. Chaplin wrote, directed, produced, acted and created the musical soundtrack for the movie. [img]https://encrypted-tbn0.gstatic.com/images?q=tbn:ANd9GcS6OpBKk1wtA0D0y66qvL1-yQxXdoOfHnm3aGvDTIAUoGos67RXSw[/img] SEE the entire film here: http://www.youtube.com/watch?v=gMXItIkSH3Q [img]https://encrypted-tbn0.gstatic.com/images?q=tbn:ANd9GcSeFg_TPEhz39ww4FlR4BBv0EDXKfBOx3G-rqYvN1gel5uam73K8g[/img] Charlie Chaplin, ship steward REVIEWS by those like us: 50% I wasn't sure what to expect from A Countess from Hong Kong as it had received predominantly mixed reviews but was considered by Charlie Chaplin to be... 10% A movie from a story that seemed more suited as a short and Young brando trying to do Chaplin-esk moves is just painful to watch. [img]http://dryden.eastmanhouse.org/media/coho.jpg[/img] Brando has a "problem", Sophia Loren is hiding in his cabin NOTES: 1 Brando, in his autobiography, wrote about this film saying that director Chaplin was the most saddistic man he ever met. The film for me didn't suffer from it at all. 2 A Countess from Hong Kong is a 1967 British comedy film and the last film directed, written, produced and scored by Charlie Chaplin. 3 Actor Jack Nicholson is a big fan of the film. Chaplin, although unhappy with the critical and audience reaction, by the end of his life considered it his greatest film. 4 The film's theme music, written by Chaplin, became the hit song "This Is My Song" for Petula Clark - a UK no. 1 and US no. 3. [img]http://31.media.tumblr.com/tumblr_l0nw678y3I1qb0ssjo1_500.jpg[/img] Marlon Brando as Ogden Mears Sophia Loren Natasha Sydney Earle Chaplin Harvey Tippi Hedren Martha Patrick Cargill Hudson Oliver Johnston Clark Michael Medwin John Felix John Paul Captain Margaret Rutherford Miss Gaulswallow Angela Scoular Society girl Geraldine Chaplin Girl at dance Charlie Chaplin An old steward [img]http://www.thefancarpet.com/uploaded_assets/images/gallery/3572/A_Countess_from_Hong_Kong_33080_Medium.jpg[/img] As Harvey, Chaplin's son left, in dark sportcoat Directed by Charlie Chaplin Produced by Charlie Chaplin Jerome Epstein Written by Charlie Chaplin Music by Charlie Chaplin Cinematography Arthur Ibbetson Distributed by Universal Pictures Release dates 5 January 1967 Running time 120 minutes Budget $3,500,000 (estimated) Box office $1,100,000 [img]http://upload.wikimedia.org/wikipedia/en/thumb/f/f6/A_Countess_from_Hong_Kong.jpg/220px-A_Countess_from_Hong_Kong.jpg[/img]
monsieur rick
A Countess from Hong Kong Quotes
There are no approved quotes yet for this movie.
Discussion Forum
Discuss A Countess from Hong Kong on our Movie forum!