Courage of Lassie
(1946)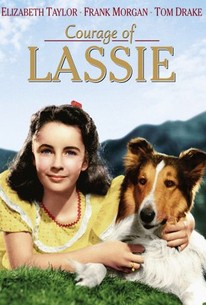 AUDIENCE SCORE
Critic Consensus: No consensus yet.
Courage of Lassie Photos
Movie Info
This is the one where Lassie plays a war veteran with amnesia. Actually Lassie isn't even Lassie, but a male collie named Bill (at least he isn't asked to appear "in drag" like all the other cinematic Lassies). Raised from a pup by adolescent Elizabeth Taylor, the doggy hero becomes a sheep collie on rancher Frank Morgan's spread. Lassie--er, Bill--loses his memory when hit by a car. Later on, the dog finds himself in the K-9 corps, where he is trained to kill Japs (Lassie a racist? No, no, not that!) The dog returns home shell-shocked and ready to tear apart anyone who crosses his path. But the love of Elizabeth Taylor conquers all in the lachrymose Technicolor finale.
Rating:
G
Genre:
, , ,
Directed By:
Written By:
In Theaters:
On DVD:
Runtime:
Studio:
WARNER BROTHERS PICTURES
Cast
Critic Reviews for Courage of Lassie
All Critics (4) | Top Critics (1) | Fresh (4) | Rotten (0)
New York Times
Top Critic
It takes all the kindness Kathie can muster to rehabilitate the canine veteran.


Movie Mom at Yahoo! Movies
Audience Reviews for Courage of Lassie
½
Loyal collie Lassie stars as Bill, a pup who becomes separated from his family and is accidentally shot by two boys. Taylor is Kathie, the sweet girl who rescues Bill. Courage of Lassie is oneof the most exciting and entertaining family films ever and has remained popular with fans of all ages. Some war scenes. An hour and a half in color. While not a stunner, this one makes even the coldest hearted fan a believer in the fate of a young dog lost in adversity. Lassie, the wonder collie, is cast as Bill. Frank Morgan of Wizard of Oz (as THE wizard himself), plays a part in this too. Make no mistake, if you start this film, as crude as it is, you will not stop it. NOTES about the film: 1 Courage of Lassie is the third of seven MGM films featuring a canine star called Lassie, who, in actuality, was a male collie named Pal. 2 Courage of Lassie was fourteen-year-old Elizabeth Taylor's second "Lassie" film as she had appeared in Lassie Come Home in the minor role of the Duke of Rudling's granddaughter, Priscilla. 3 Taylor received the first top billing of her career with Courage of Lassie. Cast Pal, (credited as Lassie) as Bill, a rough collie and Kathie Merrick's companion animal Elizabeth Taylor as Kathie Merrick, a young girl living on a sheep ranch Selena Royle as Mrs. Merrick, her mother Catherine McLeod as Alice Merrick, her sister David Holt as Pete Merrick, her brother Frank Morgan as Harry MacBain, a shepherd Tom Drake as Sergeant Smitty, Bills' trainer in the Army Bill Wallace as Sergeant Mac, Smitty's friend Harry Davenport as Judge Payson George Cleveland as Old Man, Bill's original owner Morris Ankrum as Farmer Crews, a Merrick neighbor Mitchell Lewis as Gil Elson, a Merrick neighbor Jane Green as Mrs. Elson, Gil Elson's wife Minor Watson as Sheriff Ed Grayson Donald Curtis as Charlie, a truck driver Clancy Cooper as Casey, a truck driver Carl Switzer as First Youth, a hunter Conrad Binyon as Second Youth, a hunter Directed by Fred M. Wilcox Produced by Robert Sisk Written by Lionel Houser Music by Scott Bradley Bronislau Kaper Cinematography Leonard Smith Editing by Conrad A. Nervig Distributed by MGM COLOR Release date(s) November 8, 1946 /
monsieur rick
½
America's favourite collie plays the beloved canine whose adventures range from his wilderness puppyhood to wartime service to postwar stress to a moving family reunion is wonderful heroism and heartfelt story as I'm a collie dog lover that I ever had in my life. Elizabeth Taylor appeared in this second Lassie movie since 1943's Lassie Come Home who plays as Bill's (Lassie) master. And I took tears at the end what I see Taylor and Lassie finally reunited altogether happily. That scene reminded me of 1943 Lassie film - what a fantastic memories. I see Taylor's greatest fame came later, as a young woman, most people forget what a skillful child actress she was. Less burdened than at any later time by her beauty and fame, she is at her least self-conscious in these early performances. Untouched, she reveals in these animal stories her natural flair for tears and hugs - the paraphernalia of an emotional female.
Dean McKenna
Super Reviewer
Discussion Forum
Discuss Courage of Lassie on our Movie forum!
News & Features