Cowards Bend the Knee
(2004)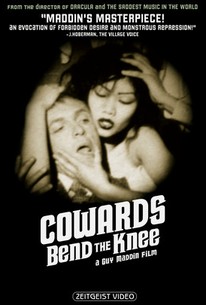 Cowards Bend the Knee Photos
Movie Info
An expressionist work comprised of surreal action involving: a hockey rink that houses a forgotten wax museum, where ghosts of dead lovers stroll; and a beauty salon where a demented doctor, wearing a corset, performs abortions.
Critic Reviews for Cowards Bend the Knee
Audience Reviews for Cowards Bend the Knee
This is kinda what Un Chien Andalou would be like if Salvador Dali and Luis Bunuel were Canadians raised on Hockey and Canadian Whiskey. A surreal, semi-auto-biographical (in ways only Guy Maddin knows I'm sure), silent film featuring abortions, amputations, strangulations (including a cop (!)), fisting, boobies, wax sculptures and of course Hockey. This film is difficult to summarize so I won't bother. I can say that Guy Maddin is quickly becoming one of my favourite film makers from Canada or otherwise and everyone owes it to themselves to check out his unique films. Especially if your a fan of Silent Era films, Surrealism, German Expressionism or movies like Eraserhead, Tetsuo or Begotten. Strongly Recommended.
Ed Fucking Harris
Super Reviewer
½
The impossible to summarize, dreamlike plot features a hockey player with a wandering eye, abortions, seductive ghosts, hand transplants, matricide, an ice breast, slapstick routines, and wax galoots. Shot as a silent film with disorienting, stuttering editing, "Cowards" is shocking, stylish and often hilarious, playing out like a mix of "Un Chien Andalou," "Mad Love," the Three Stooges, and "NHL on the Fly."
Guy Maddin makes what are probably the most unusual black comedies in recent memory, and this is no exception. The story goes like this, a man brings his girlfriend to get an abortion at a beauty salon and ends up falling for the owners daughter during the proceedure, meanwhile his girlfriend bleeds to death on the operating table. The man quickly forgets his girlfriend and begins to pursue the owners daughter. Unfortunately for him, the only way she'll let him touch her is if he gets his hands chopped off and replaced with the hands of her dead father. From there things get weird. This is the first in Maddin's "autobiographical" trilogy, which also includes Brand Upon The Brain and My Winnipeg. One great thing about Maddin is that he never disappoints (with the exception of Twilight of the Ice Nymphs). His films feel like what you would get if Murnau and Lynch got together and took some acid.
Shane Donnelly
Super Reviewer
Cowards Bend the Knee Quotes
There are no approved quotes yet for this movie.
Discussion Forum
Discuss Cowards Bend the Knee on our Movie forum!