The Cowboy and the Lady
(1938)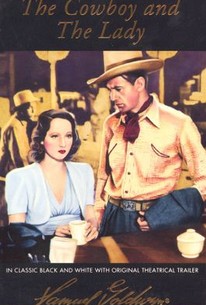 AUDIENCE SCORE
Critic Consensus: No consensus yet.
The Cowboy and the Lady Photos
Movie Info
After an eccentric young woman (Merle Oberon) is left on her father's estate to keep her from spoiling his Presidential bid, she attends a rodeo and falls in love with a cowboy (Gary Cooper). They marry soon after, and must confront the furious father.
Rating:
NR
Genre:
, , , ,
Directed By:
Written By:
In Theaters:
On DVD:
Runtime:
Studio:
MGM
Critic Reviews for The Cowboy and the Lady
All Critics (2) | Fresh (1) | Rotten (1)
This high-concept western comedy of 1938, starring Gary Cooper and Merle Oberon, is compromised due to the fact that half a dozen writers worked on the script, including S.N. Behrman, Dorothy Parker, and Anita Loos.


Ozus' World Movie Reviews
Audience Reviews for The Cowboy and the Lady
Did Gary Cooper Ever Have Chemistry With Anyone? Wacky fish-out-of-water pairings have been a staple of comedy probably as long as there has been comedy. You take two characters with as little in common as possible and shove them together. Starting them out as hating one another is a popular choice, though they seem to have opted out of that one here. Actually, they toned things down a lot in this movie from how bad it could have been. Each person only gets one wacky instance of not knowing what's going on, and for the most part, they understand what the other person's life looks like. For one thing, maybe they've seen examples of it in the movies. After all, while dishwashers were still pretty uncommon in 1938, almost everything else in a rich person's house would have been familiar from escapist Hollywood comedies not unlike the one Our Heroes have found themselves in to begin with. Mary Smith (Merle Oberon) is the remarkably sheltered daughter of Judge Horace Smith (Henry Kolker), who has been planning for years to run for President. To that end, he has kept his daughter from the eyes of the press--and from having any kind of normal life, I'd add. As would her uncle Hannibal (Harry Davenport), who takes her out dancing. At a gambling den. So her father sends her to Palm Beach. One night, Mary sneaks out with the maids, Katie (Patsy Kelly) and Elly (Mabel Todd), to the rodeo, where they all hook up with guys. Mary encounters "Stretch" Willoughby (Gary Cooper). She lies and tells him that she's her own maid. They bicker a little, but mostly because she has a different attitude toward relationships than he, and then they run off and get married. Only the idea of his daughter in a runaway marriage does not bode well for the judge's chances for an important man's endorsement, and she's kind of told her husband that her father's a drunk and she supports her five sisters. A moment, please, to discuss Patsy Kelly. This is a moment longer than a vast majority of film buffs would take, of course, especially given that her last two movies were [i]Freaky Friday[/i] and [i]The North Avenue Irregulars[/i]. But after all, the one before that was [i]Rosemary's Baby[/i]. She was never a star; she seems to have played a lot of maids. However, she played maids with just the right amount of wackiness, maids stuck in ridiculous situations who couldn't give their opinion of the situation. (Except in [i]Freaky Friday[/i], where she gave her opinion all right.) She didn't mug for the camera the way a lot of movie maids--throughout the history of film--did; indeed, I might almost argue that she had the attitude expected of black maids at the time, not white ones. I think white ones were allowed to be more like equals to their mistresses. And it's certainly true that Mary would never have gone out on the town with a black maid. But Patsy Kelly? Just a good Irishwoman! The problem with the movie, of course, or at least the irreconcilable one, is that Gary Cooper and Merle Oberon do not seem inclined to run away together. She doesn't seem in the slightest interested in her, and while he gets a lovably goofy scene where he's playing house in the framework of his new home, the imaginary woman he's playing with shares more chemistry with him than the real Merle Oberon. My understanding is that, offscreen, Gary Cooper was a notorious ladies' man, but onscreen, he never seems much interested in anyone. He's perfectly content to be out on the plains with his horse. Similarly, Merle Oberon doesn't seem much pleased with her life, but she doesn't seem as though she'd be any happier running off with Gary Cooper. It rather seems as though it would just be a different kind of isolation. She's never become her own person, though, so I suppose it's possible that she won't be any more out of sorts in Galveston than she was in Palm Beach. Gary Cooper gets some kind of speech about how the politicians ought to stop patronizing him and get to know the Common Man for real, but I don't think most of what he took to be people laughing at him actually was. I think they were mostly just stupid. A little too stupid, honestly; it doesn't ring true that someone involved in national politics would be unaware that Montana was the Big Sky Country, not the Lone Star State. Anyway, not someone who wanted to stay in national politics long. It's generally taken as given in this kind of story that the rich are completely out of touch with the Real World. In some cases, this may even be true. Certainly it's reasonable to assume that Mary would be, all things considered. But I think there's only so dumb you can be in such a media-rich world. And there's certainly only so dumb you can be if you want people to vote for you. People get upset if you don't understand regional foods; failing to understand the difference between the Lone Star State and the Big Sky Country can cost you the race.
Edith Nelson
½
Cute comedy would be nothing without the stars in the lead. Although they make an odd looking couple that works for the story and they both radiate charisma and movie star beauty. The supporting cast is peppered with familiar faces bouying up the featherweight script moving it along at a breezy pace.
Some great Cooper/Brennan moments.
Anthony Valletta
Super Reviewer
The Cowboy and the Lady Quotes
There are no approved quotes yet for this movie.
Discussion Forum
Discuss The Cowboy and the Lady on our Movie forum!