Cradle of Fear
(2000)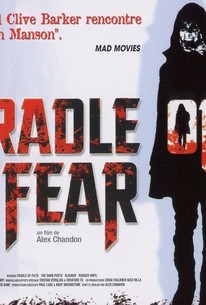 AUDIENCE SCORE
Critic Consensus: No consensus yet.
Movie Info
Directed by Alex Chandon, the gory Cradle of Fear offers four blood-stained tales of revenge. When Kemper, a serial killer of the most disturbing variety, is left to spend the rest of his life rotting in a mental institution, the families of his victims think they can breath a sigh of relief. The problem is that Kemper has a servant of Satan at his side, and this particular demon isn't hindered by the walls of an asylum. One by one, Kemper's assistant (referred to as 'The Man') wreaks his revenge on the outside world. Meanwhile, it isn't certain that the emotionally scarred detective Neilson's efforts to catch the perpetrator won't be reciprocated in his own murder. Cradle of Fear also features Dani Filth.
Critic Reviews for Cradle of Fear
All Critics (2) | Fresh (2) | Rotten (0) | DVD (4)
Fans of gothic metallers Cradle of Filth will be happy to know that not only does the film feature music by the band, but also stars Cradle screamer Dani Filth as the Man.
December 8, 2002 | Rating: 4/5
Audience Reviews for Cradle of Fear
½
Bizarre but amusing splatter film. Empire called it "the best British gore film since Hellraiser". With praise like that it was bound to disappoint some. Cradle of fear is a low-budget horror anthology. Whether you will enjoy the film will depend on whether you can get past the low-budget video look, several bad acting and the at times laughable effects. However, overall the most surprising thing about this film is how bad it is but good. The gore is excellent and some off the effects are very good though at times the over the top nature off the violence is at odds with the tone off the film. This however is not his masterpiece.
Cassandra Maples
Super Reviewer
Technically speaking it's pretty damn impressive featuring some well done FX (both CG and practical) and cinematography but for a do-it-yourselfer it's tortuously long (2 hours!) made worse by a disjointed plot that loosely strings together a bunch of uninteresting vignettes.
A.D. Villarreal
Super Reviewer
I used to love this. A 'homage' to the horror anthology films of the 70s and 80s, it's not meant to be taken seriously. It's so bad it's good!