Craigslist Joe
(2012)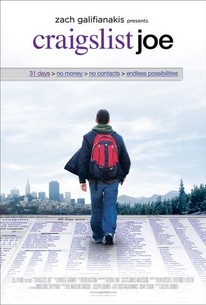 Movie Info
In a time when America's economy and sense of community were crumbling, one guy left everything behind - to see if he could survive solely on the support of the 21st century's new town square: Craigslist. As of recent, the United States found itself in one of the most precarious financial meltdowns in modern history. It was in this climate that 29-year-old Joseph Garner cut himself off from everyone he knew and everything he owned, to embark on a bold adventure. Armed with only a laptop, cell phone, toothbrush, and the clothes on his back - alongside the hope that community was not gone but just had shifted - Joe lived for a month looking for alms in America's new town square: Craigslist. For 31 December days and nights, everything in his life would come from the Craigslist website. Would America help Joe? -- (C) Official Site
Critic Reviews for Craigslist Joe
Audience Reviews for Craigslist Joe
Interesting, but patchy. The most moving part for me was the ex-actress with cancer and hoarding tendencies. I wasn't really surprised by the results here. He did have a camera following him, so of course people would feel more comfortable helping him out. I think it might be extremely different for the actual homeless out there to acquire accomodation/lifts/meals etc.
Nicki Marie
Super Reviewer
½
This sugar sweet documentary about the decency of human kindness comes from Joseph Garner, a man who lived off the good tidings of strangers for an entire month. It sounds a little corny, especially since the man did have to gain the trust, understanding, and friendship of so many strangers, but it was still an eye opening film. Not only is the documentary interesting because it drives through that point, but also because the people who Joe eventually meets, and the ways he finds himself stuck in places, is interesting to watch. He starts in San Francisco and winds his way all across the country, (as far as New York City) and then comes back through the American South. He looks on Craigslist every day for free food, rides, places to crash for the night, and last calls so he doesn't have to sleep on the streets, sometimes in the winter. Joe oftentimes finds very interesting people to stay with. In New York he stays with a maniacal woman who is looking for acceptance from the world at large and remains a hoarder when Joe leaves, a nice man in Los Angeles who gives him some oranges, a thoughtful guy who gives him a long ride from the Southwest back home, and interestingly enough, a Dominatrix. Garner seems like a sincere, affable young man, and always looks to the bright side, never finding himself veering into anger or self-hatred. The people he meets are what make this film so interesting, but his own gratitude and self-discovery in the midst of his self-satisfied journey make the film the enjoyable romp that it is. Unlike many other film dealing with the human condition, Garner gives tangible proof of how people really do want to be interconnected and feel the good of the human spirit, even in a world that is becoming ever more cloistered and private with the multitude of information out there. In the digital age Joe still finds the good in people, and that's what makes this even better.
Spencer S.
Super Reviewer
Craigslist Joe is one of those documentaries that has an interesting idea, but leaves you wanting more. I enjoyed watching it, and it was really wonderful to see that side of human nature, which is almost nonexistent nowadays. With being said, the film lacks in many areas, and it could have been much better than what we got. Don't get me wrong, it was really cool to see that side of people come out, but the main character, Joe doesn't let the people truly involved in the picture, and it all seems too quick to make a truly compelling and memorable documentary. The people that Joe meets are wonderful, but there could have been given a bit more time on-screen. Craigslist Joe makes you feel good, but I personally feel that this film is a bit too short and good have been longer to really let this experience to sink in. The kindness that people express in the film is totally amazing and unique, and is what is missing in the world. Is this film worth seeing? Yes, it is. However there are -plenty of little imperfections in this documentary to really make it a film to watch again and again. Sometimes, it feels cheesy only to give this subject a bit more dramatic flavor to it. For what it is, it's a well put together documentary, but at times the emotions that Joe feels is meh. The people he meets are the real stars here, and I just felt like Joe was more of a secondary character. A good little documentary, but very far from the best that I have seen. This one could have been better, much better.
Craigslist Joe Quotes
| | |
| --- | --- |
| Joseph Garner: | We can take care of each other. |
| | |
| --- | --- |
| Joseph Garner: | Some say we have lost the sense of community that used to carry us through tough times. |