Crash and Burn
(2008)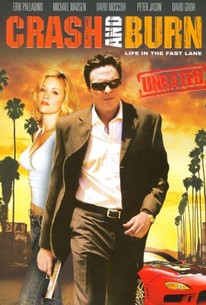 AUDIENCE SCORE
Critic Consensus: No consensus yet.
Movie Info
Michael Madsen, Erik Palladino, and David Moscow star in director Russell Mulcahy's action thriller about an undercover FBI agent on a mission to infiltrate the treacherous world of "choppers." Special Agent Kevin Hawkins (Palladino) knows that the stakes are high when he ventures into the world of fast cars, but he never expected to find himself stuck between a murderous crime boss (Madsen) and a vicious group of cutthroat gangsters. Now, with danger closing in from both sides of the criminal underworld, Hawkins straps himself in for a race that could mean the difference between life and death.
Critic Reviews for Crash and Burn
There are no critic reviews yet for Crash and Burn. Keep checking Rotten Tomatoes for updates!
Audience Reviews for Crash and Burn
An ex-car thief is recruited by the FBI to infiltrate his old gang and bring down a ring of international car thieves. Everything about this film reeks of "straight to DVD". Michael Madsen was clearly on auto-pilot til payday, and the rest of the no-name cast are a collection of the usual wise-cracking buddy stereotypes, Grand Theft Auto style shaven-headed, tattooed latino gang-banger cartoons and a particularly feeble love interest. It begins with a car chase and immediately shifts to a strip bar where surgically enhanced mammaries are waved in the viewers face, and the level of subtlety is set right there. The plot had some serious lapses in logic (Stevie Wonder dressed as a one-man band could've broken into that so-called "classic car museum") and most of the characters appeared, provided a motive for the next scene and disappeared, never to be seen again. Gone In 60 Seconds was a just a dimwitted excuse for a load of flashy car chases, but at least it had some big name star quality and extremely slick visuals. This is just a cheap made for TV knock off that's a cross between a Men & Motors calendar and an advert for joyriding.
Crash and Burn Quotes
There are no approved quotes yet for this movie.