The Crater Lake Monster
(1977)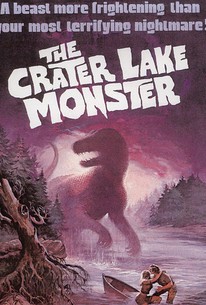 AUDIENCE SCORE
Critic Consensus: No consensus yet.
Movie Info
This bargain-basement dinosaur romp finds a backwoods community terrorized by a massive plesiosaur, aroused from its hibernation at the bottom of Crater Lake by a meteorite impact. A dull police manhunt subplot drags things down in the second act, but there's some cheesy fun to be had as long as David Allen's lumbering stop-motion beastie is onscreen, munching down on the locals like a lumpy, waterlogged beast from 20,000 Fathoms. This drive-in favorite is notable mainly as an example of the burgeoning stop-motion animation skills of Allen, whose career ranged from TV commercials (remember Mrs. Butterworth?) to steady feature work under the aegis of producer Charles Band, with whom he collaborated on numerous productions.
Critic Reviews for The Crater Lake Monster
There are no critic reviews yet for The Crater Lake Monster. Keep checking Rotten Tomatoes for updates!
Audience Reviews for The Crater Lake Monster
"Holy shit" was what crossed my mind when I realized this movie is from 1977, because it looks terrible. It seems something straight out of the 50s but with color and the stop motion is just too atrocious for words. Acting is bad beyond belief, the "comedy" misses the mark completly and is extended to unconfortable levels interviening with serious moments that just don't add up, the monster is a mindless killing dinossaur with no personality with a rubber head floating on water that is just hilarious and the story.... man the story.... and that scrpt... it's pretty much one huge hole filled with turds and you're swimming in it. Something happens for the monster to wake-up (which is pretty funny too) and then he just kills one useless character at a time for 1 hour and 30 frickin minutes to get killed by.... wait for it.... a bulldozer!!! Fuck yeah!! As you might've guessed, this is an hilariously bad campy movie, I loved it.
Francisco Godinho
Super Reviewer
The Crater Lake Monster Quotes
There are no approved quotes yet for this movie.