Crawford
(2008)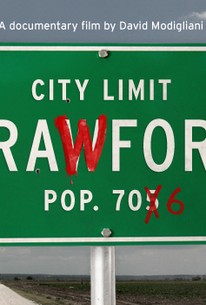 Movie Info
Filmmaker David Modigliani explores the impact of the presidency on the small town of Crawford, Texas (population 705) after President George W. Bush declares the once-sleepy community his "home" away from the White House. Shortly after then-governor Bush purchased a ranch in Crawford back in 1999, the insular community began to experience an enormous boom. Later, as Bush began his bid for the presidency, he used the town as a means of justifying his folksy, down-home image. But as new shops open on Main Street and the town of Crawford is thrust into the spotlight thanks to the advancing armies of television reporters and flocking tourists, some of the citizens began to feel the adverse effects of Bush's political stagecraft: A progressive-minded teacher and her favorite student are pushed over the edge, the local newspaper is boycotted for endorsing John Kerry, and in 2005 prolific war-protestor draws fills the streets of the small town with over 20,000 anti-war demonstrators. These days, much like the Bush administration itself, the boom has gone bust. As the streets empty out, the small shops board up their windows, the soil settles on two graves, and one person prepares to leave town to start life anew elsewhere, the citizens of Crawford start to wonder what will happen to their beloved town once Bush too beats a hasty retreat in search of more prosperous pastures. ~ Jason Buchanan, Rovi
Rating:
NR
Genre:
,
Directed By:
Written By:
In Theaters:
On DVD:
Runtime:
Studio:
Critic Reviews for Crawford
Audience Reviews for Crawford
George Bush Jr. moves to Crawford,TX. to improve his image in hopes of getting into The White House right before election time.Wow
Brody Manson
Super Reviewer
This film reflects the experience of America during the time of George W. Bush by showcasing the denizens of the president's "home town" of Crawford, Texas during his administration.
The town is a metaphor for the greater country. People live in fear; fear of foreign terrorists, yes, but even more fearful of each other, and of the crushing conservative dogma of loyalty no matter the cost. Relationships are strained, emotions boil over, and the town goes through a dangerous turn that divides neighbors and causes irreparable harm.
This film does not take sides. It does not try to make Bush or his supporters look foolish; it gives them voice, while offering substantial time to opposing views, including those of activist Cindy Sheehan.
The people of Crawford are interesting, their stories inspiring, entertaining, and sometimes moving. This film should be viewed as a time capsule of America during the W. Bush era, and viewed by future generations in that light. It would make a worthy addition to any history class.
Matt Gilbert
A very good, tame, interesting documentary that captures the mindset and attitude of a typical small town in Texas very well. Instead of focusing on the politics or personality of George W. Bush in a broad sense, it focuses on what residents think of Bush both as their leader and as their neighbor, without ever being heavy-handed or slanted. However, since "Crawford" did take such a mild and middle-of-the-road stance, no big issues, points, or arguments were brought up... which to be honest, is very nice. "Crawford" was made with classic "direct cinema" sensibilities instead of the hyper-aggressive "docu-ganda" style of Michael Moore and even Morgan Spurlock (who I have such great respect for). It tells us about a humble small town in Texas, and doesn't sensationalize it into something it shouldn't be. "Crawford" is definitely not some frantic leftist "docu-ganda", it is a sincere and honest film... which is honorable in itself, because I disagree completely with virtually everything Crawford's most famous resident does. But that's beside the point.
Ed Castillo
Crawford Quotes
There are no approved quotes yet for this movie.