Crazy Sexy Cancer
(2007)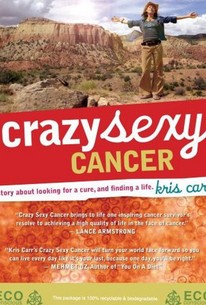 AUDIENCE SCORE
Critic Consensus: No consensus yet.
Movie Info
Kris Carr is a filmmaker who was known to her friends for her daring, adventurous and upbeat personality. In February 2003, Carr began feeling ill, and thinking she may have injured herself during yoga class, she went to see a doctor. On Valentine's Day, she got the unexpected word that she was suffering from a rare and virulent form of liver cancer, for which there were few treatments and no known cure. Rather than give in to illness and depression, Carr decided to make a film about her journey through treatment, determined to use her art to help keep her focused and sane through this profound challenge. Carr's documentary Crazy Sexy Cancer is her visual record of her struggle to regain her health and how she found a new life along the way as she faces a battery of treatments and therapies with irreverent humor and take-no-prisoners attitude. Crazy Sexy Cancer was screened in competition at the 2007 South by Southwest Film Festival.
Critic Reviews for Crazy Sexy Cancer
There are no critic reviews yet for Crazy Sexy Cancer. Keep checking Rotten Tomatoes for updates!
Audience Reviews for Crazy Sexy Cancer
After being diagnosed with a rare form of cancer, actress and model Kris Carr embraces holistic healing and nutrition to combat her illness. Inspiring, emotional, and at times delightful, Crazy Sexy Cancer is a documentary about depressing subjects without wallowing in the maudlin. Carr is a vibrant, lovely human being, and her story is not rare but her attitude and lively story-telling are. She achieves a balance that is remarkable for a first-time documentarian, and her film is both searingly honest and fun to watch. Overall, I echo Carr's, "Fuck cancer."
Jim Hunter
Super Reviewer
½
Awesome movie I was hooked instantly. Who doesn't know someone whose had cancer? Usually movies about cancer are sad and the person dies. Not this movie. It was honest, interesting, uplifting, fun, and brave. At the end I wished the director was my friend she is so cool n funny. Honestly what I took from her journey was that you have to be your best cheerleader and that we all are dealt unfair fates but life has to go on. Her positive and selfless attitude seems to be just as important as her diet and doctor visits. Instead of wallowing, she seems to be like ok what can I do, now what? Some of the healing methods seemed a little out there, but I know I probably would try just about anything too if I had cancer except maybe the implanting haha. She seems like she has a good support system and like she does everything she can. I liked the interviews with other ppl also. This movie is important bc talking about cancer is more taboo than it should be. Makes you realize how lucky most of us are, esp considering how we often treat our bodies (not sleeping enough, eatin junk, not exercising, drinking, smoking, etc...) The only reason I didn't give it 5 stars is bc it was a little add and sometimes a little surface, but it's a great documentary that almost anyone can get something out of.
Kim Bangert
What do you do when you learn you've got a slow-moving cancer, and the best you can hope for is that it doesn't get pissed off? How do you cope with the seeds of your own death in your young body? Kris Carr tells us her story in this very funny, very moving documentary. Oh, and it's a sweet love story too. Don't forget to check out all the extras on the DVD. And then find Kris at her website and blog.
Mark Lee
Discussion Forum
Discuss Crazy Sexy Cancer on our Movie forum!