Creating Karma
(2009)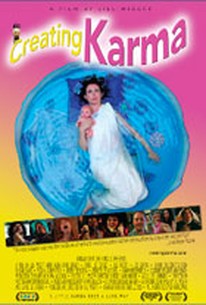 AUDIENCE SCORE
Critic Consensus: No consensus yet.
Movie Info
CREATING KARMA, a film about an uptight corporate climber who becomes a poet after losing her job and moving in with her wacky new-age therapist sister, is a narrative comedy feature by first time screen director Jill Wisoff. It will have its US Theatrical premiere Oct 16-22 at the Laemmle Grande in Downtown Los Angeles. Cast includes top billed star Karen Lynn Gorney, dancing diva co-star of Saturday Night Fever fame, esteemed actor Joe Grifasi and talented newcomers.Co-written by Jill Wisoff and Carol Lee Sirugo, two character actresses who decided to write a screenplay that has good parts for funny women (Carol plays the title character and Jill the sister), CREATING KARMA includes songs by Jill Wisoff (Welcome to the Dollhouse songs/score; co-star in Todd Solondz's Fear Anxiety & Depression) and music by Joel Diamond (The Believer, Milarepa).CREATING KARMA is the winner of the 2008 Best Feature award at the Broad Humor Film Festival. Q&As with director and cast members will follow the opening Friday and Saturday evening screenings during CREATING KARMA'S premiere week. --© Official Site
Rating:
NR
Genre:
Directed By:
Written By:
In Theaters:
Runtime:
Critic Reviews for Creating Karma
Audience Reviews for Creating Karma
No wonder the traditional newspapers are folding/going under. They simply have lost touch with reality as witnessed by their reviews of this film! Run don't walk to see this film! It is a brilliant statement about the emptiness of living just to shop and consume. It is a spiritual journey wrapped inside a brilliant comedy! A beautiful journey out of the confines of the borg-like, consumer prison of corporate conformity, consumption and materialism into the world of spirit and self-knowledge that leads to the true values of this world and the process of individuation. Jill Wisoff is a comedic genius. She just may be so ahead of her time that many won't "get it"....but if you view this film with an open mind and heart you will truly understand what creating karma is all about. And you will have some good laughs as well. So what's not to like?
Theresa de Veto
They OBVIOUSLY don't teach these guys about the FARCE genre of filmmaking in 'Film Critic School.' I've read all their reviews and these guys TOTALLY missed the boat. No wonder I rarely give credence to what a film critic has to say about a film I might really enjoy... As a real fan of movies (especially indies), I think I should add my two cents just in case there are other real movie fans out there that might otherwise be swayed by these extremely harsh, close-minded, and at times, completely inaccurate reviews. If you are interested in seeing a truly unique farce comedy, with a positive message about self-discovery, a brilliantly diverse cast, completely original music (including a HILARIOUS music video), amazing set design, puppets, poets, rapping nuns, AND the all too rare treat of experiencing cinema through the eyes of a female writer/director...then I say you will REALLY ENJOY this film=)
Film Evolution
Discussion Forum
Discuss Creating Karma on our Movie forum!