Creature From Black Lake (Demon of the Lake)
(1976)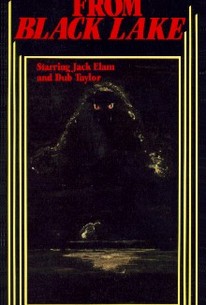 AUDIENCE SCORE
Critic Consensus: No consensus yet.
Movie Info
When Bigfoot is sighted near a Louisiana lake, two college students (Dennis Fimple, John David Carson) camp out to confirm the legendary monster's identity.
Rating:
PG
Genre:
, ,
Directed By:
Written By:
On DVD:
Runtime:
Studio:
Howco International Pictures
Critic Reviews for Creature From Black Lake (Demon of the Lake)
All Critics (1) | Fresh (1) | Rotten (0)
Among Creature's motley perks is the 'Scope cinematography of Dean Cundey.

City Pages, Minneapolis/St. Paul
Audience Reviews for Creature From Black Lake (Demon of the Lake)
The only thing 'good' about this movie is the townfolk's reaction to the kids asing about the creature. It was not enough to keep me in my seat. I left halfway thru...
Joe Strubinchincoskowski
Creature From Black Lake is a decent entry in the Bigfoot genre (yes, that creature, not the fish monster) about two college students from Chicago who head down to the Louisiana swamps in a hillbilly town where many of the folk have encountered the killer Sasquatch. One of the two guys is played by a young Dennis Fimple, who was the standout in this film, I thought. Though he can be seen in many popular films like BJ and the Bear and King Kong, Dennis is probably best remembered as the demented grandpa from House of 1000 Corpses. Anyways, these two guys try to seek out the creature throughout the film leading up to a fairly tense and exciting climax to the film. Though it takes awhile for the film to build up, it's met with decent performances from a nearly all-dead cast. The sounds and roars the creature makes would ultimately be scarier than the creature itself, but like I said, this isn't a half-bad film for its time, though the actual film itself has aged badly, thus one can never hope for a better preserved version of this movie. Interesting note, the small child in a flashback sequence is played by Chase Tatum, who would grow up to be a large wigger who would become a wrestler, a manager to Outkast, addicted to painkillers, and then die. Interesting.
Jason Duron
A fine performance from Dub Taylor. Some funny moments. A definative SASQUATCH Must See! The plot kept me wanting more.
austin g
Creature From Black Lake (Demon of the Lake) Quotes
There are no approved quotes yet for this movie.
Discussion Forum
Discuss Creature From Black Lake (Demon of the Lake) on our Movie forum!