Creature Unknown
(2003)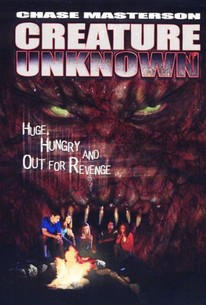 AUDIENCE SCORE
Critic Consensus: No consensus yet.
Movie Info
A monster terrorizes a group of friends at a woodland retreat, where one friend's twin brother disappeared four years before. Chase Masterson, Maggie Grace, Chris Hoffman. Directed by Michael Burnett.
Critic Reviews for Creature Unknown
There are no critic reviews yet for Creature Unknown. Keep checking Rotten Tomatoes for updates!
Audience Reviews for Creature Unknown
The body can only take so much B-movie viewing before it starts to breakdown. The skin starts to blister, old wounds open back up and the ears become engulfed in flames. I'm just kidding, but that would be awesome if that were true. [center]Blood Gnome[/center] [left]This movie had way too much crap in it. It should have just been the little demon creatures doing crazy antics like in Gremlins. There are many reasons why these cannot be gnomes, as gnomes are cheerful, ride on foxes, and have pointy hats. The creatures were invisible to the human eye cough low budget cough. The reason it is rated so low is because of all BSDM sex scenes, which are everywhere, otherwise it would have been fantastic.[/left] [center]666 Demon Child[/center] [left]Worst movie ever. I thought it would be a winner as the opening credits came fast and were in your face. First a 6, then another 6, and just when you thought they didn't have it in them another fricken 6! Then it went down faster than Paris Hilton on X. The 'child' looked like the Baby from the tv series Dinosaurs, just with horns on it. It would not shut the hell up! I would rather go through childbirth than listen to it whine for another hour and a half.[/left] [center]Creature Unknown[/center] [left]Apparently the most terrifying creature in the world is the Bearded Dragon. Nothing is more voracious than a two foot long omnivorus reptile. They are one of the most docile creatures in the world. But when combined with the DNA of a human, it becomes a slimey killing machine. This was one of those movies where everyone should have died. The supposed twists were found within the first few minutes.[/left]
Craig Pfisterer
A group former friends reunite to remember the dissapearance and presumed death of a good friend during their high school graduation party four years ago. Shortly after a reseach-scientist-turned-backwoods-hermit (Masterson) warns them to leave the area, a monster starts attacking and killing them. "Creature Unknown" is almost an average, cheapjack monster movie, with the substandard script, blah acting, and poor special effects that have emerged as a hallmark of "A Sci-Fi Channel Original Movie". (This isn't, as far as I know, an actual Sci-Fi Channel movie, but it's got all the qualities of one... it's at the upper end of the Sci-Fi Channel spectrum, actually.) What drags the film down to a low 4-tomato rating is the slooooow pace and repetative scenes that feel like padding instead of attempts at building tension (groups of characters spend lots of time wandering through the woods delivering expository dialogue that conveys information we get more than once) and the miscasting of Chase Masterson as a mad scientist living in a secret bunker. Masterson may be of the proper age to play the character she does in the film, but she looks a little younger than she actually is, and she doesn't appear anywhere near as haggard as the character should, given the circumstances she lives in. She is further made unbelievable in her part is that some of the "young people" she interacts with are in their late 20s instead of the early 20s they are supposed to be. (And, unlike Masterson, they don't have a youthful look to them.) These problems could possibly have been mitigated with proper costuming and make-up efforts, but, they weren't. And we're left with an important character who is impossible to believe in. (I don't often complain about miscast actors--they take the work where they can get it, so I don't usually blame them--but in this case, Masterson is the film's co-producer; she should have had more sense.) What keeps the movie from slipping lower in my rating are a couple of third act twists. One of them is so obvious that it might have been annoying if they [i]hadn't[/i] included it--and no, I'm not considering "Masterson made the monster and it got loose!" at twist--[i]of course, she made the monster... why else would a disgraced geneticist be living in the middle of a forest?![/i]--but the second was an interesting surprise, and I didn't the see third one coming until a few minutes before it was revealed. That nearly completely unexpected twist added a new dimension to the film, and it might have saved it if not for the other big problems. There are worse monster movies than "Creature Unknown", but there are also far better ones. You can safely pass on this one. Creature Unknown (aka "The Forest") Starring: Chris Hoffman, Kristin Herold, Chase Masterson, Maggie Grace, Cory Hardrict, and Matt Hoffman Director: Michael Burnett
Steve Miller
Creature Unknown Quotes
There are no approved quotes yet for this movie.
Discussion Forum
Discuss Creature Unknown on our Movie forum!