Creep
(2015)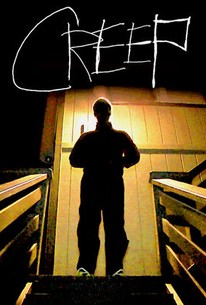 Movie Info
Looking for work, Aaron (Patrick Brice) comes across a cryptic online ad: "$1,000 for the day. Filming service. Discretion is appreciated." Low on cash and full of naiveté, he decides to go for it. He drives to a cabin in a remote mountain town where he meets Josef (Mark Duplass), his cinematic subject for the day. Josef is sincere and the project seems heartfelt, so Aaron begins to film. But as the day goes on, it becomes clear that Josef is not who he says, and his intentions are not at all pure. The directorial debut of Patrick Brice and produced by Jason Blum (PARANORMAL ACTIVITY, INSIDIOUS) and Mark Duplass (SAFETY NOT GUARANTEED), CREEP's intense interplay between its two protagonists upends expectations at every turn. (c) The Orchard
Cast

News & Interviews for Creep
Audience Reviews for Creep
½
I'm pretty far from on board with Found Footage Horror, and Creep hits a lot of the reasons why. It also seems like there was no reason it had to be Found Footage in the first place. But that all said, Mark Duplass' performance is enough to elevate the piece somewhat, and kudos to director Patrick Brice for trying something new with the format.
½
A great psychological and very short thriller as it captures both a man slowly going insane and how that has an impact on a normal person living with him. You could feel tension building up throughout the film. It was also pretty cool that they managed to pull it of with only 2 actors and a phone call. Unfortunately most of the time when the tension started building up, it would be ruined by a stupid false jump scare. In the film the photographer named Aaron constantly getting scared by his friend Josef and a wolf mask annoyed me. I also wish the film would've been slightly longer being only an hour an 17 minutes long. ( It doesn't affect how much I like the film but I have never seen Josef spelled with an F.)
Tarin Pairor
Super Reviewer
½
I always find it really funny that the main characters of these found footage films never stop filming even in situations of great danger, and this thriller is pretty efficient to extract tension from moments that can be simultaneously creepy, hilarious and uncomfortable.
Carlos Magalhães
Super Reviewer
Creep Quotes
| | |
| --- | --- |
| Josef: | I love wolves. because they love deeply, but they don't know how to express it, and they're often very violent and, quite frankly, murder the things that they love, and inside of the wolf is this beautiful heart. And yeah it's misguided, and yeah occasionally it murders things. and this little wolf was so cute, it reminded me of you, honestly, You know, that moment I scared you in the woods. and it was - There was murder in your eyes, but it was like, it was baby murder, you're not ready to accept that yet, and I want to encourage you to embrace your inner wolf, so take the wolf and enjoy it, and more importantly, take the knife, and don't be afraid to murder it, because when you stick a knife in something, and you gut it and you really dig inside, I don't know man, there's all this beautiful stuff. and um... I got a little surprise for you in there. See ya soon, Buddy! |
| | |
| --- | --- |
| Josef: | Oh my god. Oh my god. This is going to be a good day. |
Discussion Forum
Discuss Creep on our Movie forum!