Creep Van
(2012)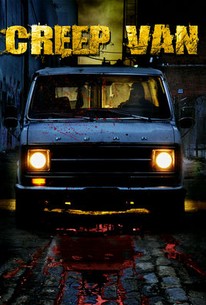 AUDIENCE SCORE
Critic Consensus: No consensus yet.
Movie Info
A Detroit 20-something incurs the wrath of a ruthless serial killer after attempting to buy a beat-up van used in a series of grisly murders. Campbell Jackson is flat broke, and in desperate need of a car when his spots a van that could get him back on the road, and out of his dead-end job at a local car wash. If Campbell only knew that the owner of the booby-trapped van uses it as his personal killing chamber, he would have never inquired about it in the first place. But now the maniac has his number, and the only way for Campbell to save himself and his girlfriend from becoming his next victims is to seek the help of a shady conman who's just as dangerous as the motor-psycho with his foot on the gas and murder on his mind.
Critic Reviews for Creep Van
There are no critic reviews yet for Creep Van. Keep checking Rotten Tomatoes for updates!
Audience Reviews for Creep Van
Creep Van is yet another awful straight to DVD horror title that really doesn't deliver. The idea for the film was quite interesting; unfortunately, the filmmakers were not able to create something watchable. The end result is a film that is poorly acted, directed with no flow to keep you interested from start to finish. Creep Van could have been a wonderful low-budget horror yarn; unfortunately it fails in almost every respect. The film feels rushed, with no emphasis on trying to make a memorable, watchable film that could have been good. The film relies more on clichés and sloppy directing, which simply doesn't work. This is a horror film that definitely doesn't deliver on its ambitious ideas, thus it ends up being a dreadful film going experience that simply isn't worth your time. Creep Van is a low budget schlock fest that just doesn't thrill. The film is pretty boring, and there is never anything to really grab your attention. The idea for the plot was good, but the execution was poor. This is just another one of those forgettable straight to DVD titles that simply fails to thrill the viewer. The horror is terrible, and it relies on clichés and there are no performances that stand out. There is nothing worthwhile to enjoy here, and it presents fans with the same old tired out formula, instead of trying to do something new and refreshing. If the film would have been rewritten, and a few things changed up, then maybe this film would have been worth seeing. As it stands, this is a forgettable dull affair that simply isn't worth your time due to an awful scrip, awful directing and awful acting.
Creep Van Quotes
There are no approved quotes yet for this movie.