The Creeps
(1997)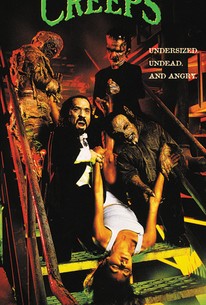 AUDIENCE SCORE
Critic Consensus: No consensus yet.
Movie Info
Monsters come in all shapes and sizes, and if you don't believe it, this offbeat horror item will provide all the proof you need. A somewhat mad scientist, Winston Berber (Bill Moynihan), has come up with a remarkable new invention -- a machine that can create living, breathing re-creations of fictional characters from books. However, there's a slight problem with this new technology; he can only create miniature versions of these literary giants, and when he programs several classic horror novels into the machine, he suddenly has three-foot-high versions of Dracula (Phil Fondacaro), Frankenstein's Monster (Thomas Wellington), the Mummy (Joe Smith), and the Wolfman (Jon Simanton) to contend with. The pint-sized monsters soon begin making king-sized mayhem and when the monsters need a woman of virtue to put their evil schemes into high gear, pretty but virginal librarian Anna (Rhonda Griffin) becomes their next target, and it's up to her to put things back to normal.
Rating:
R (For language.)
Genre:
, ,
Directed By:
Written By:
On DVD:
Runtime:
Studio:
Full Moon Pictures
Audience Reviews for The Creeps
½
Great literary giants like Bram Stoker, Mary Shelley, and others would be rolling in their graves if they knew what was being done to their work in Full Moon's The Creeps. The Creeps is about a mad scientist who steals the first prints of popular literature based on the famous monsters of horror (Frankenstein's Monster, Dracula, The Mummy, and Wolfman) in order to bring them to life in the real world and have them do his evil biddings. When a detective and librarian are on the his scheme, he uses the librarian as a necessary sacrifice, but she gets away and screws up the experiment and all of the monsters come out as cute, little dwarf-sized versions. Yes, we are in Full Moon territory with direction from it's fearless leader, Charles Band. Unfortunately, this is one of Full Moon's lamer attempts, so you'll find yourself either chuckling at the nonsensical aspect of it or very bored with the movie (a rare feat considering this film is only 75 minutes long). The acting amongst the main players is so over-the-top, and the only person taking this film seriously is Phil Fondacaro who plays the pint-sized Dracula. I was surprised to see that this was PG-13 since they have a decent amount of Titty shots in the film from the resident lesbian library boss who also spends time getting off by rubbing herself with the work of Charlotte Brontë. Yea, this film is ridiculous, and if you're into this sort of cheese, you won't mind it.
Jason Duron
½
A mad scientist (Moynihan) builds a machine that transports Dracula, the Wolfman, the Mummy, and Frankenstein's Monster from the books and movies they usually exist it, into the real world. But interference from a librarian (Griffin) and a wanna-be private detective (Laur) who were recovering an original hand-writen draft of Mary Shelley's Frankenstein novel that the scientist stole to use in his experiment, cause the process to go awry. The four monsters are brought to life as 3-foot-tall midget versions that are not quite as imposing as their fictional counterparts. Dracula (Fondacaro) doesn't appreciate his diminished height, and he sets about getting the scientist what he needs to redo the experiment, getting it right this time. [center][img]http://www.geocities.com/nuelow/movcreeps.jpg[/img] [i]Phil Fondacaro makes a surprsingly effective Dracula in Charles Band's horror comedy "The Creeps"[/i] [/center] "The Creeps" is a movie made as what I am increasingly convinced was the Golden Age of B-movie maven Charles Band's creative output, as well as of his production company, Full Moon, was coming to a close. It's a fun film, with creative well-written dialogue and full of creative and crazy ideas that are well-implimented. However, there is also an air of cheapness to this film, an air of cheapness that will grow more pervasive in Band's films through the first half of the 2000s, only starting to dissipate with the release of "Doll Graveyard" and "Gingerdead Man 2". That said, the final glimmers of the Golden Age still shine brightly in this crazy movie, where Band's obsession with making stories about tiny terrors takes a very unexpected direction as we're treated to "little people" taking on the roles of classic movie monsters instead of the puppets and other special effects we had come to expect. The script is fun and fast-moving and the story is populated by quirky characters that may be little more than two-dimentional cartoons, but they are great fun and being portrayed by talented actors who seem to be having a load of fun. In the entire movie, there's only one actor who plays his part straight and that is Phil Fondacaro as Dracula. In fact, Fondacaro plays a more convincing and creepy Dracula than many actors in serious horror movies, giving a performance that is comparable to the Draculas of Bela Lugosi, Christopher Lee and Jack Palance. It's a performance that shows that Fondacaro is a far more talented actor than he'll probably ever get a chance to fully show, because of his small stature. (I think he could be a great Hop-Frog, though, if that story is ever properly adapted to the screen.) The only complaint I have about the film is that it's rather illiterate in its approach to classic horror. First off, as excellent as Fondacaro's Dracula performance is, the character design doesn't resemble Dracula as he has appeared in any movies nor as he is described in Bram Stoker's novel; the only Dracula design that springs to mind is the one that appeared in a small handful of comics from Marvel in the mid-1970s and late 1980s. The film also implies that the Frankenstein Monster that the mad scientists causes to manifest is somehow tied to Mary Shelley's novel. Nothing could be further from the truth, as Shelly's monster was intelligent and articulate while the monster here is a midget version of the Universal Studios Frankenstein Monster. (And Thomas Wellington does a great impersonation of the creature as it was played by Boris Karloff.) "The Creeps" is Charles Band close to his craziest and it's a film that will be a perfect addition to any Bad Movie Night line-up (or to any movie night spotlighting weird comedies). You can own it for less than $10 if you [URL=http://www.amazon.com/gp/product/B00001U0I4?ie=UTF8&tag=stevemillesdo-20&linkCode=as2&camp=1789&creative=9325&creativeASIN=B00001U0I4]order it from Amazon.com[/URL]. The Creeps Starring: Rhonda Griffin, Bill Moynihan, Justin Laur, Kristen Norton, Phil Fondacaro, Jon Simanton, Joe Smith, Thomas Wellington and Andrea Squibbs Director: Charles Band
Steve Miller
Like monsters squad, only they're midgets... Stupid and bad acting, but it does have some humor to it.
John Trifiletti
The Creeps Quotes
There are no approved quotes yet for this movie.
Discussion Forum
Discuss The Creeps on our Movie forum!