Creepshow 3
(2006)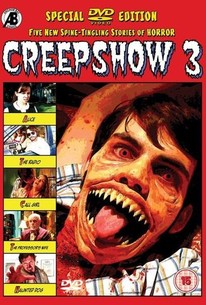 Movie Info
Diabolical demons take possession of the living, night-dwelling vampires lurch out from the shadows, vicious serial killers embark on an orgy of blood-drenched mayhem, and nightmare worlds come screaming into our reality as the Creepshow series continues with this collection of five shocking tales inspired by classic horror comics.
Critic Reviews for Creepshow 3
Audience Reviews for Creepshow 3
Is this even a movie? Creepshow III plays like a bad fan film shot at some guy's house for a couple hundred bucks. There's no real acting, the production values are shit, and the stories don't make any sense. A complete travesty, this garbage has no business being part of the Creepshow series.
Dann Michalski
Super Reviewer
½
A change of pace with this latest sequel, no connection to the previous two films with Romero or King but the whole film takes the Tarantino route with intertwining stories that mix and collide with each other as the different stories progress. To be honest the film is pretty good despite reviews that I have read, the stories are dark and bloody but not that original yet they still hook you and keep the atmosphere nice and spooky. The short stories are quite good but they kick off with a weak offering about a bratty girl mutating into her true form every time the TV remote is used. Doesn't make much sense and isn't that interesting yet it does have some nice makeup effects. After this all the other stories are mixed in together and we see characters from each segment showing up in other stories. There is a murderous prostitute on the rampage, a vampire killing people, a man who buys a radio that can speak to him and help him make money, two college guys who think a professor has built the perfect woman and a cruel miserable doctor who gets his comeuppance. The way the stories all merge is really well done and you get lots of little plot tit bits from each part that explain other questions from other parts...plus some references to the previous two Creepshow films. I was expecting a real cheap looking flick but instead this is actually quite decent and well worth the honour of being Creepshow 3.
Phil Hubbs
Super Reviewer
So bad it makes Uwe Boll look like Spielberg.
A.D. Villarreal
Super Reviewer
Creepshow 3 Quotes
There are no approved quotes yet for this movie.