Cremaster 4
(1995)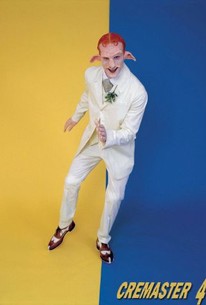 Cremaster 4 Photos
Movie Info
An avante-garde film that's centered on an Isle of Man motorcycle race.
Rating:
NR
Genre:
, ,
Directed By:
Written By:
In Theaters:
Runtime:
Studio:
Cast
Critic Reviews for Cremaster 4
Audience Reviews for Cremaster 4
Everyman's Matthew Barney; simple images, non-glacial pacing. But, for all it's approachability, not as pretty as two or three.
Jim McCann
[i]Cremaster 4[/i] was so bad. My friend and I were wondering how it's possible to get four other films made when the first is so bad. And how does someone go about making the fourth film in a series of five films first? Weird. Anyway, I actually saw [i]Cremaster 5[/i] first, and that one was pretty good. I'd heard some really weird things about [i]The Cremaster Cycle[/i]. It wasn't until today I found out Cremaster has something to do with male genitalia, so I just looked it up and it means "A thin muscle which serves to draw up the testicle," which makes perfect sense after seeing two of the movies. So [i]Cremaster 5[/i] is pretty much a weird stage opera with naked nymph type creatures. And a naked guy. Hmm. One of the weirdest things I've ever seen though, these nymphs tie some ribbon to the guys weird penis like thing. And then pigeons fly around connected to the ribbon which is connected to his dong. So this weird naked guy has extra skin all over the place, so do the nymphs. It's bizarre. But other than that, it's a incredibly beautiful film. Great costumes, and a really great set. It really is just amazing stuff. There isn't much to this film though. I don't know what the point it. It didn't really seem like it had one, unless I missed it, but I don't think I did. It was kind of boring at parts, but always intriguing. [i][b]Cremaster 5[/i][/b]: B [i]Cremaster 4[/i] is a totally different story. It was the first of the whole series, and looked like crap. And was pretty gross. And the story was lame. It looked stupid. This one was about a tap dancing guy who, well, tap dances, and there whenever something is put in his pockets, vaseline type stuff comes out of these four bikers' stomach, and it looked really gross. Uh, yeah. That's pretty much it. It didn't have a point either. I am interested in seeing the other three [i]Cremaster[/i] films, though. [i][b]Cremaster 4[/b][/i]: D
David Heffler
Discussion Forum
Discuss Cremaster 4 on our Movie forum!
News & Features