Crime School
(1938)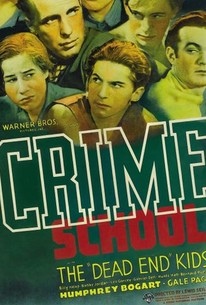 AUDIENCE SCORE
Critic Consensus: No consensus yet.
Movie Info
This entry in the Dead End Kids series of adventures makes critical comments about the failings of reform schools. The story begins as the boys are sent to the Gatesville Reformatory, a cruel institution where the discipline is often violent. They boys do their best, but it is difficult to cope. Things get a little better when the deputy commissioner of corrections makes a surprise visit to the institution. He is appalled and immediately fires the sadistic warden. He then begins instituting gentler ways of treating the inmates. The grateful youths save the new warden's life after he is machine gunned during a political double-cross. As a reward, the boys are paroled.
Rating:
NR
Genre:
, ,
Directed By:
Written By:
In Theaters:
On DVD:
Runtime:
Studio:
Warner Brothers
Critic Reviews for Crime School
There are no critic reviews yet for Crime School. Keep checking Rotten Tomatoes for updates!
Audience Reviews for Crime School
½
Even with Bogart, a predictable yarn about hopeless tough kids getting a break in life. If you can tolerate The Dead End Kids for most of the film and not much of me (Bogart), this is for you. But while I did play some great scenes, this is mostly a Dead End Kids show. Hey, an actor has to eat too, no matter how lame the movie! PLOT: (black and white) A gang of underprivileged teenagers are sentenced to serve two years in a reform school after almost killing a criminal fence who attacked them. SEE the entire, fast paced flick at: http://www.youtube.com/watch?v=jiBfp0ZT3tM [img]http://t2.gstatic.com/images?q=tbn:ANd9GcRYpZ2GBorBH67bsEeojF9v4X5PgNQSuXWFq520_GSYFB9Pj4LS9g[/img] This was a remake of Jimmy Cagney's famous movie The Mayor of Hell, or so enlightened sources claim. I found the movie really nothing to compare to that film's quality. Not as near a captivating film, its way too much Dead End Kids and not enough of ME (Bogart). I did love firing a bunch of clowns in the first hour though. Especially the headmaster of this hell hole reform school. And of course there is always a suck up guard that provides a snake to poison the efforts of me, thats Bogart to you. [img]http://t2.gstatic.com/images?q=tbn:ANd9GcQPLsqmZieahL6yn9nKjaOQhKZxnafFUPTc6HZYJgUISWSQZzE5lg[/img] Reviews: 70% Tough guys are fall guys. A group of kids from the city are busted for attempted murder and sent to reform school. NOTES: The Dead End Kids received top billing over Humphrey Bogart for Crime School, with their typeface also larger than Bogart's in posters and advertising. [img]http://t2.gstatic.com/images?q=tbn:ANd9GcTbWjbiM64QX5L-dJOLYfPX6opFgkqAtfmoEWgWfsqCEd_4gwGQ[/img] Directed by Lewis Seiler Produced by Bryan Foy Written by Crane Wilbur Vincent Sherman Starring Humphrey Bogart Gale Page Billy Halop Bobby Jordan Huntz Hall Leo Gorcey Bernard Punsly Gabriel Dell Music by Max Steiner Cinematography Arthur Todd Editing by Terry Morse Distributed by Warner Bros. Release date(s) May 28, 1938 (U.S.) Running time 86 min. b&w Country United States [img]http://t0.gstatic.com/images?q=tbn:ANd9GcTj65yVqGLRFnn4kWLQcO09kikHWXF72fNIG39eAFnlAqJ46dbR1Q[/img]
monsieur rick
½
Tough guys are fall guys. A group of kids from the city are busted for attempted murder and sent to reform school. The kids initially struggle to fit in as the warden is harsh and the conditions of the school are very poor. A new warden arrives and changes things up; however, will the kids in the school behave enough to allow him to make a difference? "Hospitals are okay. I was in one once. You should have seen the elegant service I got." Lewis Seiler, director of Women's Prison, Doll Face, Whiplash, The Tanks are Coming, The Winning Team, and Pittsburgh, delivers Crime School. The storyline for this picture is fairly entertaining and worth following but also a bit predictable. The characters are interesting and well written/presented. The acting is solid and the cast includes Humphrey Bogart, Gale Page, Billy Halop, and Bobby Jordan. "My stomach's pushing against my spine." We continue to DVR the old school Bogart films and I thought the premise of this film was interesting and seeing him in this role would be a nice change of pace from his gangster/crime dramas. This movie was fairly straightforward and predictable but it was still entertaining to watch the movie unfold. I recommend seeing this film. "I don't mind playing ball as long as I'm not catching." Grade: B
Kevin Robbins
They did it with The Maltese Falcon/Dangerous Woman & got it right the third time under John Huston. Crime School was Mayor of Hell in 1933 with Cagney and finally in 1939 also with the Kids & Ronald Regan as Hell's Kitchen which the UK Censor considered so brutal he clapped on the then rare 'H'certificate (16+ only). Indeed,check out punishment meted out to one of the Kids by sadistic reform school super,Grant Withers who kills him by locking him in a refrigeration unit. I waited many years before catching an isolated TCM screening (since this is not on commercial video) having formerly seen a wartime reissue alongside Return of Dr X. It is better directed than the other two versions but it is the Kids + Reagan all the way battling Grant Withers in true Capt Bligh form. But grim stuff.
Cassandra Maples
Super Reviewer
Crime School Quotes
There are no approved quotes yet for this movie.