Crime Spree
(2003)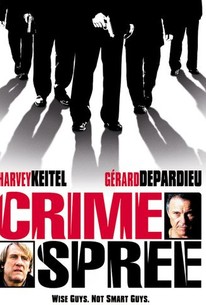 Movie Info
Franco-American relations have never been as strained as they are in this heist comedy. Crime Spree stars Harvey Keitel as Frankie, a brutal Chicago gangster accidentally targeted by six bumbling Parisian burglars sent to the windy city to rob jewelry. But when they anger Frankie, the crooks also attract the attention of his rival mob and the FBI. Johnny Hallyday and Gérard Depardieu co-star.
Critic Reviews for Crime Spree
Audience Reviews for Crime Spree
½
Another movie where I don't agree with the masses. Clever and funny. I prefer movies that are character and dialogue driven. If you like dark comedy-crime capers - check it out.
Craig Walters
Strike 1: The formulaic plot. Strike 2: The sub-par actors. Strike 3: The subtitles and horrible production quality. I watched less than 20 minutes of this, skipped to the middle to see if it looked like I might be missing anything good, saw that I wasn't, and turned it off. This isn't worth the hour and 45 minutes or the electricity needed to run my DVD player.
Amanda Hendsbee
Quaint little flick about French gangsters who are sent to rob a mansion in Chicago - only they are given the address of a mobster. A lot goes wrong. Good to hear Hallyday and Renoud in the soundtrack, and always a pleasure to see Vigoda.
Christopher Bergan
Crime Spree Quotes
There are no approved quotes yet for this movie.
Discussion Forum
Discuss Crime Spree on our Movie forum!