Crime Zone
(1988)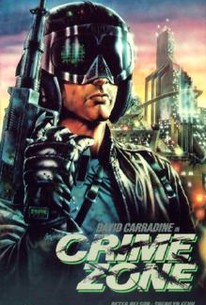 AUDIENCE SCORE
Critic Consensus: No consensus yet.
Movie Info
Bone (Peter Nelson) and Helen (Sherilyn Fenn) are rebels who long to escape from the oppressive, futuristic society that keeps them down in this sci-fi actioner. Bone has been fired for being disgruntled, and Helen is a state-paid prostitute in a world where many things, even sex between consenting adults, is taboo. (David Carradine) is the big shot government agent who promises the duo they can move to the planet Froidan if they manage to steal a coveted computer disc in this feature bogged down by side plots and too much dialogue at times.
Rating:
R (adult situations/language, nudity, violence)
Genre:
,
Directed By:
Written By:
In Theaters:
On DVD:
Runtime:
Studio:
Concorde/New Horizons Home Video
Critic Reviews for Crime Zone
There are no critic reviews yet for Crime Zone. Keep checking Rotten Tomatoes for updates!
Audience Reviews for Crime Zone
Tedious and muddled from start to finish. Slightly amusing in an 80's movie kinda way but for 88 you'd expect something more imaginative and skillful than this heavy handed plot.
Mark Nash
I've learned a lot of things about the future from watching science fiction films. I've learned that everyone will either wear bulky uniforms or skimpy rags, that the cities will be simultaneously bright with neon and dingy with smoke, and that there will be lots of dust everywhere. Plus, spunky women with minds of their own that rebel against the state will have short, really light hair and go topless at the drop of a hat. And when that topless spunky woman with attitude is Sherilyn Fenn, that's not entirely a bad thing. In the final days of Roger Corman's Concorde films that managed to get theatrical releases, there was [i]Crime Zone[/i], in which Fenn plays Helen, a tough prostitute in the middle of the rough-and-tumble Dead End Zone, an area controlled by cops. Helen meets Bone, another rugged individual type who's just gotten fired off the force for not being very good at his job. At least he's supposed to come off like a rugged loner, but Peter Nelson's performace and the dialogue he's given make him seem more like a loveable loser. The two of them get involved, despite the fact that the law prevents them, and they're looking for a way out of the city. They're approached by a cigar-chomping David Carradine, who offers to shuttle them out in exchange for pulling a heist, which they do, setting off the Bonnie-and-Clyde-but-in-a-dystopian-future-where-billiard-balls-look-like-cat-toys plot. It's mildly engaging, fairly paced and decently acted enough to be worth a watch. Almost. Unfortunately, the makers of [i]Crime Zone[/i] seem so convinced that they've got such great sparring dialogue between Helen and Bone that they spend a good portion of the time with it--which would be fine, if they had spent have as much time coming up with responses as they obviously did with non-sequitors. For example, a female cop makes Bone drop his pants, and then asks him, "Is that your normal size?" Okay, think about possible responses to this, keeping in mind that you're a wise-ass who doesn't like cops and your name is Bone. Got something? Good. Now, let's compare this to what Bone actually does, which is.... ...um... ...absolutely nothing. Okay, so nobody's expecting genius from a Roger Corman-produced post-apocalypse movie. But [i]Crime Zone[/i] has enough interesting concepts in it, like the reasons behind Carradine's character's actions, that watching them not get competently explored is downright frustrating. It's slightly more brainy than the average direct-to-video futuristic thriller, but it becomes so convinced of its' own slightly-better-than-averageness that it never bothers to be anything more than that, and that's a damn shame. Director Louis Llosa went on to make [i]Sniper[/i] and[i] Anaconda[/i], and he manages to show enough talent here to justify his chance to make big-budget films, albeit goofy Hollywood films with Tom Berenger and/or killer snakes. [i]Crime Zone[/i], after all, is still worth a look, and it's fun to watch Carradine spew out all of his dialogue from behind a cigar, but there's not enough here to please anyone but the most devoted post-apoc or Sherilyn Fenn fan.
Paul Freitag
Crime Zone Quotes
There are no approved quotes yet for this movie.