Criminal Lovers
(2000)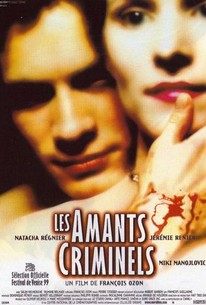 Movie Info
A woman is looking for revenge and kicks but ends up finding a lot more than she counted on in this drama. Alice (Natacha Regnier), a sexy and knowing young woman, one day presents her more naive boyfriend Luc (Jeremie Renier) with an unusual request -- "help me kill somebody." Alice has a somewhat reasonable explanation, claiming that the intended victim raped her and she's out for justice, but unknown to Luc, Alice has long had a fascination with violent crime and nihilism. Luc agrees to help Alice, and together they stab Said (Salim Kechiouche) until he's a dead and bloody mess. They drag Said's corpse to the woods for burial, but before they can finish covering the body, they're discovered by a strange man who lives in the woods and makes his way by trapping (Miki Manojlovic). The trapper insists that Alice and Luc are trespassing on his land, and he drags them back to his cabin, locking them in the cellar while he decides what to do next.
Critic Reviews for Criminal Lovers
All Critics (14) | Top Critics (2) | Fresh (9) | Rotten (5)
There's a lot of excitement and tension to Lovers and the originality that Ozon goes about it in his 'fractured fairy tales' way makes it adventurous and worthwhile.
Manages to bring a fresh and impudent spin to a familiar movie genre.
Audience Reviews for Criminal Lovers
In the modern revision of Hansel and Gretel, seductive Alice pressured sexually confused Luc into murdering their classmate whom she claimed has raped her. Their attempt to hide the body and escape the police led them into a dangerous hut in the rural forest owned by a strange man they soon find themselves in a dangerous trap worse than being caught by the police, or is it? Arguably Ozon's breakthrough film into the mainstream, it's incredibly weird as his other films but somewhat more thought provoking and artistic. The editing was more mature, the storytelling was pretty good too though could really be shortened and less repetitive. Not for the faint-hearted.
Sylvester Kuo
Super Reviewer
Criminal Lovers Quotes
There are no approved quotes yet for this movie.