Criminally Insane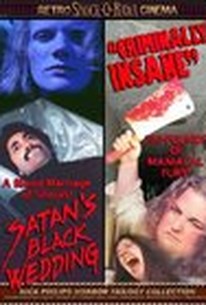 AUDIENCE SCORE
Critic Consensus: No consensus yet.
Movie Info
After her doctors declare her ready to return to society, Ethel leaves the psychiatric hospital and goes to live with her grandmother. She soon develops a few odd habits, in particular a insatiable compulsion to eat massive amounts of food. When grandma locks away the food supply out of fear for her granddaughter's health, Ethel kills her for the keys to the pantry. Left to her own devices, she now indulges her hunger non-stop, murdering anyone who dares to stand in her way. Will anyone be able to put a stop to her?
Rating:
PG
Genre:
Directed By:
Audience Reviews for Criminally Insane
This movie is horrendous, but since it's that bad, it's actually pretty funny when you think about it.
Joey White
Ethel Janowski (Priscilla Allen) comes into the care of her grandmother (Jane Lambert) after an extended stay at a mental hospital. Ethel shows no interest in watching her weight and eats insatiably. Concerned for Ethel?s health and the household budget, her grandmother locks away all of the food and tells Ethel she will only ration food to her as she sees fit. This greatly angers Ethel and she kills her grandmother in a rage. Ethel eats as she pleases and even kills the grocery boy to get more food. She stores the bodies in her grandmother?s room. She may have very well been left alone if her trick turning cousin hadn?t shown up and started getting suspicious of Ethel?s behavior. Despite the low budget and so-so acting of Criminally Insane, this film stands up pretty well as a unique kind of slasher film where the slasher in question is more complex than your Jason Vorhees or Michael Meyers. The director also seems to take care in establishing some very interesting shots and focuses on the storytelling aspects of those shots. The characters are a little flat but their flatness lends to the story in how it gives a sense of quiet and isolation, which is the way Ethel lives her life and would prefer it to stay. The action and violence creep along the way the plot does to this film which enhances the overall quirkiness of it.
Mark Plaid
You know how fat people eating is grosser than most gore scenes in any movie? Well, if you don't then this movie will prove it to you. Really funny premise, MOrbidly obese woman goes on a murder spree because her grandma locks her food away from her. Kills anyone in the way of food
Ian Bracken
Criminally Insane Quotes
There are no approved quotes yet for this movie.