Crimson Gold
(2004)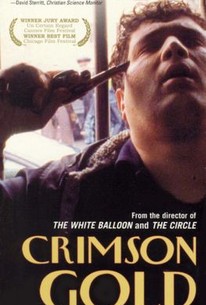 Movie Info
This film by Iranian director Jafar Panahi opens with a dramatic jewelry store robbery. After shooting the store owner, the robber, Hussein (Hossain Emadeddin), turns the gun on himself. The remainder of the film backtracks to trace the events leading up to his death. Before concocting their robbery plan, Hussein and his friend Ali (Kamyar Sheisi) are pizza delivery men. Hussein is also planning to get married, but the disdain he receives from his wealthy customers, combined with the snobbery he encounters at the jewelry store when he tries to buy a ring for his fiancée, begin to weigh on him, driving an essentially decent man further and further to desperation.
Critic Reviews for Crimson Gold
Audience Reviews for Crimson Gold
Kiarostami is not behind the camera here but Jafar Panahi who was the recent subject of This is Not a Film delivers well here. I appreciate this more for the little tidbits that Panahi provides during This is Not a Film with its unexpected directors' commentary. It's raw and real.
John Ballantine
Super Reviewer
½
A real measured and poetic presentation of class and pride in Iranian society and in just human existence in itself. The film is about a pizza delivery man who attempts to rob a jewellery store. Abbas Kiarostami wrote the script for this film, supposedly after meeting with Quintin Tarantino and you can tell in its non-linear narrative. The film starts with the robbery and him killing himself, then the rest of the film is the build up. This non-linear narrative with the neo-realist style of Iranian new wave does create something void of tension but full of exploration.
Hassan Vawda
Super Reviewer
Crimson Gold Quotes
There are no approved quotes yet for this movie.