The Crimson Pirate
(1952)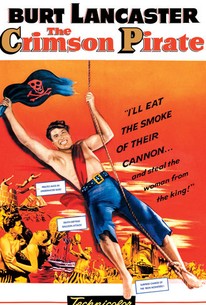 The Crimson Pirate Photos
Movie Info
Half affectionate parody and half enthusiastic tribute to the swashbuckling pirate epics of the 1930's and 40's, The Crimson Pirate stars Burt Lancaster as Captain Vallo, the smiling leader of a pack of unscrupulous pirates. While on the high seas, Vallo and his men spy a well-stocked merchant ship, and waste no time in relieving it of its contents. One of the passengers on the cargo vessel, Baron Gruda (Leslie E. Bradley), informs Vallo that a political revolt is shaking a island nation in the Caribbean to its foundations. The pirates set their course to the island, hoping to sell the arms they've just stolen to rebel leader Sebastian (Frederick Leister), while planning to later double their profit by turning him in to the Government leaders who are offering a reward for his capture. Vallo's plans change when he meets Sebastian's daughter Consuelo (Eva Bartok) and falls in love, while she teaches the pirate the wisdom of her father's philosophies. Vallo and his faithful sidekick Ojo (Nick Cravat) soon join Sebastian's men, and fight with them in a valiant struggle for freedom. Burt Lancaster and Nick Cravat were once partners in their early days as circus acrobats, and they got to put their skills to good use in this picture; keep an eye peeled for an early performance by future horror movie great Christopher Lee.
Critic Reviews for The Crimson Pirate
Audience Reviews for The Crimson Pirate
½
The Crimson Pirate is a fine swashbuckler, with plenty of charm, action and lighthearted humour. Lancaster, a circus acrobat before turning to movies in the '40s, gives what may be his most physical performance as sword-for-hire Captain Vallo, a.k.a. the Crimson Pirate. Knowing that Lancaster was doing his own stunts elevated his charismatic performance, as most of them were spectacular and daring. Overall, well worth looking out for.
Jonny Crumley
Super Reviewer
½
Big, splashy entertainment but it goes on too long.
½
Classic swashbuckler full of fine action and slapstick humour. Pirates Of The Carribean pillaged many ideas from here, most blatantly, the walking under the sea in an upturned boat bit.
The Crimson Pirate Quotes