The Crippled Masters (Tian can di que)
(1979)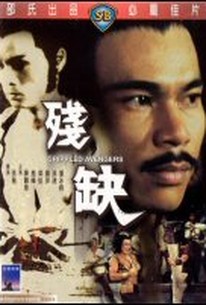 AUDIENCE SCORE
Critic Consensus: No consensus yet.
Movie Info
This is a martial-arts epic about kung-fu masters with physical handicaps. The film demonstrates that punishment can be induced from any body extremity if you're skilled enough. Peter Shen heads this cast. ~ Hal Erickson, Rovi
Critic Reviews for The Crippled Masters (Tian can di que)
Audience Reviews for The Crippled Masters (Tian can di que)
½
I'm no stranger to finding oddities in different kind of genres, but the Martial Arts genre has always been a safe zone for me when it comes to avoiding something out of the ordinary, until now. Imagine my shock to find something called The Crippled Masters in the Martial Art section of my video store which is declared "The Most Controversial Martial Art Movie Ever". Which is debatable since have you ever heard ever of The Crippled Masters before reading this? Likely not, so lets just get to the movie itself. The Crippled Masters is about two men who seek revenge on their evil master who made them cripple. The opening credits just shows the martial art experts, who are actually cripple in real life, showing off their skills. While I find it impressive that these people learned Martial Art despite their handicap. I also found it boring that it spends the first four minutes showing off their skills instead of telling us something important or background on they obtain these skills. Once the credits are over we abruptly see a man getting his arms cut off, imagine my confusion when I see a main character getting his arms cut off for an unexplained reason. Now I'm not going to tell you exactly what happens in this movie since I only do that if I could poke fun of it entire plot and plus you can't make jokes about people with physical disabilities. Now almost everyone in this movie is cruel to our cripple characters, which is highly implausible since I doubt that only three people out of an entire town don't hate cripples. While that might be implausible it also makes the plot and our characters struggles inspirational. We want to see these two men conquer whatever obstacles come in their way and kill their evil master. Which would be fine if it wasn't for the two being enemies and their master teaching them to forgive your enemies. So the moral of this story is revenge is OK if you and a former enemy work together to kill a person who made you cripple? I'm not sure if I'm entirely okay with that. [IMG]http://1.bp.blogspot.com/-U23SYS4djdg/UBzgKZSLzKI/AAAAAAAAJOE/KylzClGIPWM/s1600/28690.jpg[/IMG] More on the plot later, this movie has a technique which I could only describe as "The Cripple Back Pack Technique" (shown above). This techniques requires the cripple with no legs to grow golden metal bars from his back and attach himself on his partner who has no arm. Well to be honest he has a part of his arm, but I know nothing much about human anatomy so I can't tell you what part of his arm is left. The martial art sequences here are surprisingly smooth and are done naturally by the actors as it never feels force nor limited. Unfortunately these martial art sequences have choppy editing which distract from them and makes them look disjointed. In case you're worrying about only seeing cripple fight for the entire movie, don't worry there fights scenes between people with no handicap. Please stick to the subtitles, even if you don't like reading during your movies I doubt you could tolerate hearing the horrid dubbing which could possibly make your ear cry blood. The acting here ranges from average to "wow that's really bad". Back to the plot, it's unfocused for the second half with an ending that will leave you unsatisfied with what you just watch. What it does good is giving us two underdogs who despite their differences and disabilities working together against the odds. It also keeps things interesting and despite one contrived plot point, it wasn't as a bad as I expected. The Crippled Masters combines uneven plot with uneven acting to create a disjointed experience leaving you with a bad ending that doesn't conclude the movie. While not as bad one could possibly imagine, it's not anything worth spending your time looking for this. It's simply an oddity in the Martial Art genre and unlike any other Martial Art movie I've ever seen, but it strangeness is not enough to recommend.
Caesar Mendez
Super Reviewer
Great film that shows having a disablity can make one stronger, if you're not "crippled in the mind". Now the same should go for mental disablities as well. When a mentally challenged guy kicks ass, kung fu or not, they say he's having an episode. But seriously if Sean Penn started kung fuing the shit out of everyone in I Am Sam I would consider that one of the greatest movies in the entire world. An if Juliette Lewis used the flying guilotine in The Other Sister I would play that on a loop non stop throughout the day. And if Jodie Foster in Nell... well you get the picture. Bring on the mentally "crippled" kung fu flicks! Back to the movie at hand though, both those crippled dudes were pretty messed up. The one guys legs really looked like they were nearing the time to get amputated, there was moss and mushrooms growing on them well after gangrene must have set in and the guy with no arms looked like he had a little Thalidomide arm. But they surely do kick ass. Believe it or not, I found this grindhouse classic at Zellers on a DVD with 3 other martial arts flicks. I remember in the VHS days having to rent a friggin bootleg of this in a specialty shop. Thank you DVD!
Christopher Brown
Super Reviewer
The Crippled Masters (Tian can di que) Quotes
There are no approved quotes yet for this movie.