Critters
(1986)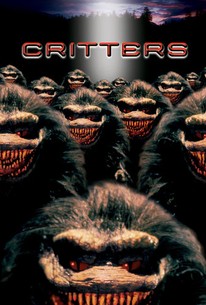 Movie Info
Critters, an amusing horror comedy directed byStephen Herek, is the story of a family menaced by eight basketball sized creatures from outer space who arrive at their Kansas farm in search of food. Helen Brown (Dee Wallace Stone) and Brad (Scott Grimes), owners of the farm find themselves held hostage as the creatures roll, jump and bounce around during the night. They are pursued by a pair of inept, intergalactic bounty hunters, Charlie (Don Keith Opper) and Johnny (Terrence Mann) who can shape-shift at will and are packing weapons capable of taking care of any creature they encounter. The special effects of this humorous thriller are extremely good and the creatures themselves have distinct and separate personalities.
People Who Like this movie also like
Critic Reviews for Critters
Audience Reviews for Critters
Critters involves weird, small, and somewhat humurous creatures from outer space landing in Kansas and terrorizing a family in thier farm. This movie has been compared to Gremlins a lot and I do see similarities, but I found Critters to be more dark. There is gratuitous bloodshed, people die horribly and the creatures actually have dialogue. The audience hears them speak in a weird language, but there are subtitles and the things these creatures say are actually pretty funny. I find it funny that they had more personality than any of the Twilight characters. The creatures are also being followed by intergalactic bounty hunters and the scenes with them are entertaining as hell. They're anything but inconspicuous and they just blow up whatever they see. The special effects for the creatures are also pretty good. From what I heard, when this movie was being filmed they had a very limited number of the critter puppets, so the director had to conserve them for the movie until he felt a death scene was appropriate. The movie isn't exactly perfect. There are parts where it felt like a Gremlins rip-off and some scenes I found campy. It still is entertaining though. When it comes to horror comedy, all I can really ask for is humor mixed with enjoyable scenes where people fight and die and all that stuff. Critters spawned three sequels and it's no doubt they weren't as good as the original. If you want to watch any of these movies, just stick with this one.
Tyler Robertson
Super Reviewer
Some may be reminded of Gremlins hearing about this movie, but it is very different. The back story is more fantastical for example, and the critters do not start out cute and lovable, they start out small and crazy and get big and scary by the end. This movie is also more of a horror film than Gremlins, there's a good amount of blood, and people getting eaten up by the critters. But there are also humorous scenes with the critters as well to balance out the film. Overall, it's exciting, scary, fun, and I really liked it.
Interesting horror comedy from director Stephen Herek following alien like fury creatures who feed on anything and create havoc in the process. a well made comedy horror film, Critters is obviously the best one in the series. This boasts a good cast such as Dee Wallace (Cujo) Scott Grimes (Band Of Brothers) and Billy Zane ( Dead Calm). This is amusing and entertaining horror comedy that will definitely please fans of comedy horror. Sure the idea behind the film isn't that great, but the film is very entertaining and is fun from start to finish. What makes this such a good little flick is that it doesn't take itself seriously and the fact that it has a B movie feel to it doesn't hurt. The film will appeal to fans of the Gremlins franchise, though different, both films navigates similar territory. Critters has enough originality to be different from Gremlins, the creatures are meaner, and come from outer space. The film is a worthy viewing and is lots of fun. If you enjoy this type of horror, then you'll enjoy this film.
Critters Quotes
There are no approved quotes yet for this movie.