Bai wan ju e (Croczilla)
(2012)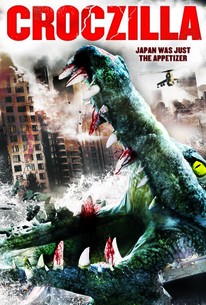 AUDIENCE SCORE
Critic Consensus: No consensus yet.
Movie Info
A notorious tricky businessman Zhao Da Zui bought crocs for meals. When the crocodiles are going to be killed by slaughters, who's called Amao pulled apart the ropes angrily and escaped by itself. On the big crocodile way escaping from human capture. Amao happens to swallow Wen Yan 's bag including her cellphone and purse ten thousands EURO in it, that is one million RMB. Wen Yan swear to catch the crocodile. So she ask for help to the policeman, Mr. Loose Wang, who hardly belive this crazy woman. As the searching work started, the crocodile has been found appearing in the pool where the kids usually play at and ate the sheep in the nearby. The whole town is in dangerous. The police take action at once.At that pressing moment, Mr. loose wang shoot the best performance in his life and kill the crocodile. But, nobody notice who left her egg in the rank. Is this a gift to Xiao Xing or anther prelude for a new crisis?
Rating:
PG-13
Genre:
, , , ,
Directed By:
Written By:
On DVD:
Runtime:
Studio:
Screen Media Films
Critic Reviews for Bai wan ju e (Croczilla)
There are no critic reviews yet for Bai wan ju e (Croczilla). Keep checking Rotten Tomatoes for updates!
Audience Reviews for Bai wan ju e (Croczilla)
The acting was so horrible, especially the female lead I was really hoping the croc would kill her so she'd SHUT UP.
cathy stell
½
I was really liking this movie for the first half of it. And by liking, I mean completely laughing at how bad the English dubbing was. I honestly have no idea what I would've thought of this film if I had watched it in the original Cantonese. But the dubbing itself is honestly so goddamn horrible but it's massively entertaining in how bad it can be. The film itself, obviously, was mostly comical, even without the bad dubbing, so it's not like the dubbing made a serious movie hilarious. But some of the jokes probably wouldn't have hit, and that's a strange word to describe when they didn't actually hit, if it wasn't because it was so poorly dubbed. The film isn't as purposely schlock-y as Sharknado is or, for that matter, any other of Asylum's films, so it's strange they marked it that way in this side of the world. I suppose when your movie revolves around a giant crocodile there would be no way to promote it on this side of the world without trying to appeal to the Sharknado crowd so, hence, the Croczilla title. That title is honestly a little misleading since it implies a monster the size of a tall building. It is an abnormally large crocodile, to say the least, but nothing the size of Godzilla or any other monster features you've seen. With that said, the film's first half, at least, was hilariously bad. I was honestly really entertained by it. I wouldn't even commit the sacrilege of even calling it a below average film, because it is not, I think it's a bad film. But, you know what, it's a bad film that entertained me. Perhaps I'm being unfair in the sense that it is very possible that its entertaining badness was due to the shitty English dubbing. I may not have liked this film in Cantonese either, but I may have rated the film slightly higher even if I wasn't entertained as much. The problem comes in the fact that the second half where the film just loses all steam. I don't want to say it becomes a 'serious' movie, because it doesn't, it's still very much a comical movie, or at least it attempts to be, but things are taken down a notch and the movie just isn't as entertaining as it was prior to this point. The characters are nothing to write home about, what a fucking surprise. Though there is this one really fucking stupid kid character in the film. His stupidity is established in the first scene. It was to the point, at least in this scene, where the character probably deserved to die. That's how stupid he was. He's a little less bad as the film progresses but still stupid in that, in the climactic "battle", the kid is more worried about the crocodile being hurt than his father. Very stupid kid. There's also this lady character, whose name I forget, who did something very stupid as well. Essentially this lady, whose bag full of 100,000 euros was eaten by the croc, spends the entire movie searching for the croc so she can recover her money. She spent 8 years saving all of this money up, so it's understandable. There's one scene, however, near the end, when the cops, including the kid's father, who's the main character, go to hunt the croc. He tells the lady to keep an eye on her son and to not let him leave the station. Does she do this? No, of course not. She wakes the kid up and takes him in order so he can help her find the croc. Essentially she's putting the kid's life in danger, and they were in danger at a certain point after they left, just so she can get her money back. I know she worked hard for that money, over 8 years, but is it really worth it putting this kid in danger. As much as I hated the character and thought he was stupid, this was just a ridiculously stupid. And this is a movie that about a giant crocodile going on a fucking rampage. Think about that. I'd have no idea how to describe the acting since I watched a very shitty English dub. I will say that, at the very least, it made me laugh. The special effects aren't anything to write home about, but they're not as embarrassing as I would've anticipated. I'm sure this film didn't have as big a budget as The Avengers, let's just say that. With that said, this is a bad film that is really badly entertaining for the first 45 minutes before falling off a cliff that it didn't recover from. So I recommend watching the first half of it and shutting it off. You'll thank me later.
Jesse Ortega
Super Reviewer
31 of 31 #10 CROCZILLA" Avoid like the plague. So now I am on my Netflix streaming kick and I did my usual searching at all the Horror movies and picking a whole bunch based mainly on the art for the cover or the title. Croczilla just looked cool and I was thinking, well...this could at least have some fun kills......but oh no...this movie is far more horrific than anything else...its a freaking children's movie. So let me start by saying this movie is a Chinese production with dubbing so bad I think I caught Mono - seriously this is epically bad. So we start at a black market of sorts where people sell crocodiles and there is a rowdy crocodile that gets purchased by a guy with a bamboo stick called Mr. Lu who says...this one is mine. Fast forward a bunch of years and we see Mr. Lu in his crocodile park ??? zoo ??? can't tell - and we see the croc he purchased whose name is Amao fully grown to a massively huge size...Amao has a fan in the shape of an annoying kid called Xiao. So in turns out Mr. Lu cannot afford to feed his crocs so he agrees to sell them to people who will feed them meat BUT WAIT...they are evil people who own a restaurant and they want to make tasty croc dishes out of Amao. BTW - the croc's CG quality is somewhere between Sharknado and Sharktopus as far as quality goes. So blah blah blah blah nothing happens for the next hour....we see some stupid family story about Xiao's father whose name is WONG WAY !!!! I swear I was making this up.....and we see other characters who are such a painful stereotype of chinese people and are not funny.....its totally pointless. So FINALLY the croc Amao figures he is going to be cooked and he escapes...and heads directly to Xiao's house....and Xiao's babysitter totally freaks out when she sees this gigantic croc in the house she screams...the croc roars....Xiao screams....babysitter grabs a sword and the croc has a FREAKING FLASHBACK !!!!! of getting disciplined with a bamboo stick and goes berzerk. Anyways...nobody dies...and Wong Way arrives to save the day and scares the croc away. So more blah blah blah blah for the next 30 minutes....we see the people from the restaurant who are not croc hunters and they are suppossed to be funny but at this point I was getting so angry I started to curse the very day I was born......oh the croc showed up again.....and Mr. Lu showed up again.....yay. So the restaurant people have an idea to capture Amao, they are going to hang Xiao and the babysitter by a rop so the croc approaches them and right before eating them they will put it to sleep.....and the plan seems to be working until the croc smells Xiao and LAYS DOWN NEXT TO HIM LIKE A DOG....IT EVEN MAKES DOG NOISES. Ok.....this has reached moronic levels. Oh yay - the croc ate someone....who cares...you barely saw it. Xiao says something about Amao only attacks bad people.....blah blah blah blah Mr. Lu tries to calm Amao down, the croc hits Mr. Lu and seems to kill him, someone shoots Amao and kills it. And I was sad that bullet didn't hit me cause I would of been put out of my misery after watching this massive turd of a movie. Wow.....avoid...this is not a horror movie at all....Netflix recommended a Power Rangers movie as the credits were rolling to add massive insult to my brain injury lol.
Ozzdeath Souldeath
Bai wan ju e (Croczilla) Quotes
There are no approved quotes yet for this movie.