Cross of Iron
(1977)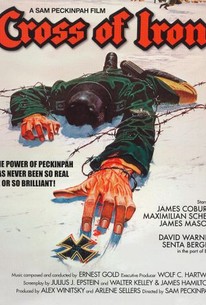 Movie Info
A quote from Bertolt Brecht ends this bitter and angry war film by Sam Peckinpah: "Do not rejoice in his defeat, you men. For though the world has stood up and stopped the bastard, the bitch that bore him is in heat again." Peckinpah's intense and belligerently non-commercial work, (based on the book by Willi Heinrich), is a World War II tale told from the German perspective, following a platoon of German soldiers in the Russia of 1943, when the German Wehrmacht forces had been decimated and the Germans were retreating along the Russian front. James Coburn is Steiner, a German corporal and recipient of the Iron Cross who feels that he owes his loyalty to his family and fellow soldiers and not to Hitler and the German war machine. But when a new commander, Captain Stransky (Maximillian Schell), takes over the platoon, Steiner and Stransky come into immediate conflict. Stransky is a career soldier, the complete opposite of Steiner, and a man who pledges himself heart and soul to Hitler and the war. But he envies Steiner for having been awarded an Iron Cross and deeply desires one himself. The problem is Stransky is a complete coward and recognizes that the only way he can be awarded an Iron Cross would be to get the bitter Steiner on his side.
Critic Reviews for Cross of Iron
Audience Reviews for Cross of Iron
½
A very good movie about a women seeking revenge for the death of her husband when she see's the man responsible for his death and her daughters death back on the streets. A thriller and drama with many twist and turns. 4 stars 7-3-12If your a World War 2 film lover don't miss this one. A very good film showing the German side of the war and to my surprise James Coburn plays lead as a German enlisted man who gets the job done. A Clint Eastwood role for sure, Some very good actual film footage in this one. 4 stars. 7-7-12
Bruce Bruce
Super Reviewer
½
With this film, the legendary master of violent action Sam Peckinpah made his only (strict) war film. The story takes place along the Eastern Front of World War II in 1943, and follows a hardened, weary corporal (later sargeant) named Steiner who, besides battling Russian forces, gets into a battle of wills with Capt. Stransky- a member of the Prussian aristocracy who vows to win the coveted Iron Cross (the highest medal one in the Germany army can win)at all costs. So yeah, besides being a big war film, this deals with class conflict, cultural issues, and has typical Peckinpah themes such as masculinity, honor, and the corrupting influence of violence. It's some good stuff. The film had a pretty low budget, and the shoot was troubled, but all in all, this is a pretty decent and satisfying film. It is pretty obvious that the film's creating was plagued by torubles and limitations, especially in the end where it just seems really rushed, sloppy, and tacked on. I do dig the ending, but I can't help but imagine what the real end result could have been like had the film had a bigger budget. The casting is quite nice, with James Coburn (doing his best Lee Marvin) in the lead as Steiner, and Maximilian Schnell as the well to do Stransky. James Mason and David Warner also show up and do some stuff, although their story doesn't really go anywhere. Still though, everyone does a pretty decent job. The real highlight are the fantastic battle sequences. This should be a given since Peckinpah helmed it, but, even though he's topped what's in here by a great amount in his otehr works, the action is gritty, raw, and has everything you'd expect fromhim. I especially loved the neat silent scenes that show up once in a while . All in all, this is a pretty fine war film. It's somewhat messy and maybe slightly draggy, but it's entertaining, and gives you exactly the sort of gritty, bitter, and angry depiction of vioence and combat that Peckinpah is famous for.
Chris Weber
Super Reviewer
Have you ever noticed how often war films (including anti-war films) center around incompetent officers? Paths of Glory, 'Breaker' Morant, Gallipoli, etc., etc., etc... Even films that don't revolve around impotent leadership generally feature it in one or more supporting characters. After viewing at least 200 genre pictures and serving eight years in the military myself I have subscribed to the hypothesis that most commissioned officers, and some enlisted men, are continuously promoted until they reach the point where the responsibilities exceed their capabilities. Cross of Iron is Peckinpah's interesting version of said circumstance, enhanced by James Coburn's inspired performance. Four stars.
Randy Tippy
Super Reviewer
Cross of Iron Quotes
There are no approved quotes yet for this movie.