Crossover
(2006)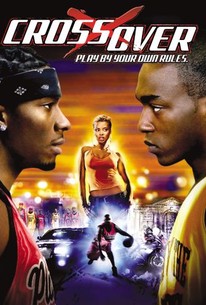 Crossover Videos
Crossover Photos
Movie Info
Director Preston A. Whitmore II brings the thrill of the street to the big screen with a fast-moving tale of underground basketball that proves no matter what team you play for, in the end it's all about how much game you've got. The stroke of midnight has sounded and the crowd has gathered; it's time for some basketball. Forget about the rules of the NBA, though, and throw those college credentials out the window because they don't mean a thing in this court. In a converted rail station, the only players who gain respect are the ones left standing when the clock hits zero, and the current champions have been standing way too tall for far too long. Now a new generation is ready to take over the top spot, and young hopefuls Tech (Anthony Mackie) and Cruise (Wesley Jonathan) are leading the charge. With everything on the line and the challenge of a lifetime before them, these too young street-ballers will be forced to out-dribble, out-shoot, and out-run their more experienced competitors in order to win the game and pave the way for the next crop of street smart shooters.
Rating:
PG-13 (for sexual content and some language)
Genre:
,
Directed By:
Written By:
In Theaters:
On DVD:
Runtime:
Studio:
Cast
Critic Reviews for Crossover
Audience Reviews for Crossover
Laughably bad. I remembered I use to love this film when I was 8 years old but now when I have matured into a teenage movie reviewer. I soon realize that this movie is complete trash that 8 year old me couldn't see. I want get through with the positives first. Ok I admit I was entertained but not in the way that the movie wanted me to be entertained. To make that statement clear, I was having a great time laughing throughout the movie. Another positive thing is that I feel for the two main characters because of their brief backstory and their complexity of characteristics/ personalities. And the last positive thing is that the street ball sequences are well choreographed and pretty cool. Ok now we are getting into the real juice here. The negatives are the poor directing overall. The very low budget sound editing is atrocious. The acting is pretty bad. Besides the main characters everyone else is either one dimensional or paper cut outs or even both. Sloppy editing especially when pointless montages occurs during the halfway mark. The pacing is undetected. The music doesn't fit into scenes correctly. Shaky cam and poor lighting everywhere!!! Throw away plot that is so generic is should become a plot for a TV soap opera. Actually, this is a soap opera but made into a movie. The movie is extremely predictable. Horrible dialogue that makes me die of laughter every time I think of it. Drama that you can care less about. All these factors drive this film down even more. I've seen potential but was just wasted by the wrong guys for the job. I don't hate the movie I just thought it was bad to the point that you can't take it seriously. Truthfully I won't watch this film ever again in my life. That being said I would recommend you watching this at least once for free. So you can get a huge kick out of this. Trust me this a great comedy disguised as a horrible sports drama. I want to give this film a F but I can't do it when I think of the entertaining aspect of it in the wrong way. Basketball scenes were pretty good too bad they only had only 2 scenes. Overall, I will give the movie 'Crossover' a D- grading.
elijah cole
½
A sterotypical black movie (though that is not necessarily a bad thing). The basketball scenes are pretty fun to watch (albeit a bit scripted) and the plot is decent enough to be watchable, though it really doesn't offer anything new. All in all not Crossover is not as bad as people say it is but it is nothing great either.
Jonathan Porras
½
Ooooooooh boy, I bet not many of the actors in this one openly admit to being in it. Just plain badly done. Writing was awful, direction was awful, and if I want to see acting this bad again, I'll go to a high school play. The lone bright spot was Lil JJ. He was entertaining.
Robert Cotterman
Discussion Forum
Discuss Crossover on our Movie forum!
News & Features