Crouching Tiger, Hidden Dragon: Sword of Destiny
(2016)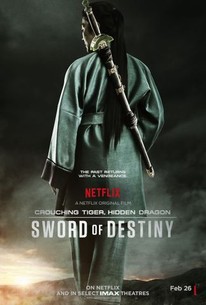 Crouching Tiger, Hidden Dragon: Sword of Destiny Videos
Crouching Tiger, Hidden Dragon: Sword of Destiny Photos
Movie Info
Based on the fifth and final book from the Crane-Iron Series, this sequel to 2000's martial arts phenomenon Crouching Tiger, Hidden Dragon follows a new adventure on the hunt for a legendary sword. Michelle Yeoh reprises her role as Yu Shu Lien from the first film, with Donnie Yen and Harry Shum Jr. co-starring.
Critic Reviews for Crouching Tiger, Hidden Dragon: Sword of Destiny
Audience Reviews for Crouching Tiger, Hidden Dragon: Sword of Destiny
½
Lackluster retread, yes. But I think I would watch a whole film of Michelle Yeoh simply thinking. Or changing her socks. Her scenes with Donnie hint at what this could've been.
Kevin M. Williams
Super Reviewer
What made the first Crouching Tiger, Hidden Dragon movie so spectacular was its innovation, beauty and intricacy. Ang Lee broke into the ranks as a serious threat of movie making with it thanks to his seamless blend of drama, heart, and action. Which is why it's unfortunate a semi-respected martial-arts director like Woo-ping Yuen failed in nearly every one of those categories in the second go-around nobody really asked for or saw as necessary. Though Michelle Yeoh returns to add authenticity to this being a direct sequel, most all the other actors are plucked from obscurity or asked to mail in a performance, like Donnie Yen or Jason Scott Lee, to put some heft into an otherwise bland cast. What disrupts the integrity of the movie more-so than the clunky storytelling is the fact it was all done in English with Chinese dub. The story is as much of a rehash as last time without the pomp or frill of an excellent drama. With Sword of Destiny, the dialogue is cheesy, the rhythm of the film is staccato, and believing in these characters because less enthralling the further along the movie progresses. But the beauty is still there. Sweeping screenshots of the beautiful landscapes with crisp sound effects and spectacular weapon design at least give you the small resemblance of being back in this world from so long ago. The martial arts seem pretty standard when compared to the first movie (some might even say lesser than the first), but I was still glued to the TV during the ice-lake fight. When it really comes down to it, the appeal to make a sequel outweighed the sense to do it. We are left with a pretty hollow story line that fails to make its point ring true. A prequel with all new actors (or even the same) or an entirely different take on this "Iron Way" would have at least allowed the filmmakers to stand apart from the first instead of cowering under its immense shadow.
Lane Zieben
Super Reviewer
½
The solid script doesn't try to be a mere copy of Ang Lee's masterpiece (despite a few similar moments here and there), while the visuals are dazzling and the fighting scenes spectacular, although the excess of CGI kills some of the fun and the film ends in a lame last scene.
Carlos Magalhães
Super Reviewer
Crouching Tiger, Hidden Dragon: Sword of Destiny Quotes
| | |
| --- | --- |
| Yu Shu-Lien: | Once he has the sword it will be the end of all of us. |
| | |
| --- | --- |
| Yu Shu-Lien: | Honor, duty, just excuses for bloodshed. |
Discussion Forum
Discuss Crouching Tiger, Hidden Dragon: Sword of Destiny on our Movie forum!