Kurôzu Zero (Crows: Episode 0)
(2007)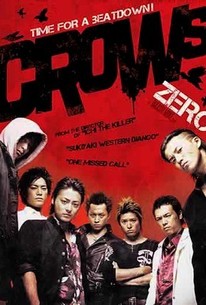 AUDIENCE SCORE
Critic Consensus: No consensus yet.
Movie Info
Idiosyncratic Japanese auteur Takashi Miike offers another meditation on a violent culture in this teen-themed thriller. Genji Takaya (Shun Oguri) is a teenage troublemaker whose father, Hideo (Goro Kishitani), is a high-ranking member of the yakuza. Genji is a new student at Suzuran Boys' High, a educational facility for juvenile delinquents nicknamed "The School for Crows," and he's determined to make a name for himself as someone who doesn't back down from a challenge in order to impress both his father and his new classmates. Not long after arriving on campus, Genji comes to blows with Ken Katagiri (Kyosuke Yabe), who thinks at first that the new kid is someone else. Genji beats Ken into submission and wins his grudging respect, but when word gets out about the fight, Genji finds every tough guy in the school is waiting for his turn to show Genji who's boss, with the leader of the school underground empire, Tamao Serizawa (Takayuki Yamada), waiting at the end of the line. Kurozu Zero (aka Crows: Episode 0) was the third feature released in 2007 by the prolific Takashi Miike. ~ Mark Deming, Rovi
Critic Reviews for Kurôzu Zero (Crows: Episode 0)
All Critics (1) | Fresh (0) | Rotten (1)
the conflicts depicted with such flamboyant relish here neither can, nor will, ever end, which makes the film's two-hours-plus duration feel rather stretched, especially when spent in the company of characters who, although very broad, lack any depth.
April 5, 2012
Audience Reviews for Kurôzu Zero (Crows: Episode 0)
½
After being voted the best Asian film of last year (due to its delayed DVD release) and what I consider one of Japan's most visionary directors behind it I went into Crows: Episode 0 with my hope set high.Stylistically the film is a triumph, it features some great shots of protagonist Genji and is filmed as if it has been lifted directly from the manga it was based on. Other areas in which the film succeeds are it's soundtrack (which is largely hip-hop) and explosive climax sequence that is built up effectively throughout the second act.Although entertaining Crows 0 is let down in the same way I thought last years pick for best film LOVE EXPOSURE was. Tonally it feels uneven, and the first hour of the movie feels largely different to the superior second half. It's as if Miike lost conviction with what he was creating and decided to vamp up the action in order to keep viewers interested, luckily it worked.
Cameron Sherwell
Super Reviewer
Crows Zero is a manga adaptation about factions of students fighting for control of a Japanese high school. Not exactly a new idea, as every other anime and manga is about that very subject. But that's not what made Crows so uninteresting to me, I've previously enjoyed many movies and shows with similar plots. My issues with the movie were that I never felt any connection to the characters, and couldn't care less about what happened to them. Add that to the unremarkable fight scenes, and you've got a recipe for "meh". I did appreciate the sporadic humor, but that quickly (and unfortunately) faded away as the movie progressed. Die-hard fans of the manga may want to check this out, but I can't recommend that anyone else go out of their way to see it. If you want to see high school students beating each other to a pulp, there are much better (and more exciting) options.
Crows Zero is an all out violent brawl, in which director Takashi Miike tones down his wackiness. Is that a good thing?
What this film comes down to is a group of students beating the crap out of each other to become the top dog of the school. Doesn't this sound like the sort of story Miike can go off on? Actually, Miike finds himself balancing out the seriousness and the absurdness of this picture, which turns out to be a little bit of a letdown. This film runs a few minutes past 2 hours, and watching young adults acting like punks and messing up each other's faces manages to lose its interest factor after awhile. That's not to say that this is a bad film, but it is one that has the time for some Miike abstractness. Not too much though.
The violence is a plenty and it is bloody; however it isn't close to anything that will gross people out. The fights aren't anything spectacular either.
As far as the acting goes, all the guys successfully act and look like punks. Amongst the dozens of males, Meisa Kuroki finds herself as the lone female. She really is a breath of fresh air. It's just too bad she doesn't do much for the story.
After all the punches are thrown and the bodies drop, Crows Zero is a Takashi Miike movie for those who want to see guys beat the crap out of other guys.
Kurôzu Zero (Crows: Episode 0) Quotes
There are no approved quotes yet for this movie.