Cruel Jaws
(1995)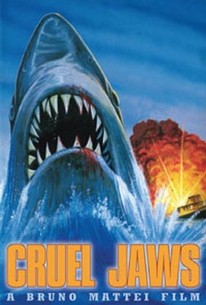 AUDIENCE SCORE
Critic Consensus: No consensus yet.
Movie Info
The coastal town of Hampton Bay is threatened when a tiger shark starts chomping up their vacationers in the king of all Jaws rip-offs, Cruel Jaws. Days before the annual Regatta celebration, the townspeople are faced with financial ruin if something isn't done about their newfound shark problem. If that wasn't enough, the owners of the local amusement park have been subject to a hostile takeover from a prospective businessman looking to cash in on their prized property. It's up to the sheriff, the park's owner, and a shark expert to head out and destroy the killing fish before the summer economy is slashed and the park is left for the bulldozer. Directed by Italy's foremost expert on rip-off cinema, Bruno Mattei (under the name William Snyder), Cruel Jaws features a heap load of footage taken from Enzo Castellari's The Last Shark, as well as snippets from the first two Jaws flicks, plus musical cues from none other than Star Wars.
Rating:
NR
Genre:
Directed By:
Written By:
Runtime:
Studio:
Europe Communications S.r.l.
Critic Reviews for Cruel Jaws
There are no critic reviews yet for Cruel Jaws. Keep checking Rotten Tomatoes for updates!
Audience Reviews for Cruel Jaws
Very very very bad a waste of time Watch this job was five is the worst movie out of the series I would rather watch Jaws 4 her all day instead of this trash of a movie it's just a copy of Jaws 1 2 and 3 and three do not watch it's terrible movie terrible bad trash horrible disgusting movie this should of never being made do not watch this bad movie whoever directed did a bad job whoever wrote the script did a bad job do not watch it's a waste of time I hate this movie when I first Watch this in the first three minutes I thought it was terrible to not watch a bad movie
Enzo lopergolo
The size and breed of the shark changes throughout the course of the film, at one point it's a tiger shark then a massive great white.
Jackson Newman
½
The movie is really bad. The Japanese subtitles are annoying. Peter Benchley (author of Jaws) for some stupid reason gave Bruno Mattei permission to use dialogue from his book for the movie. There also is some Star Wars-like music in it. And the fact that they used stock footage from Jaws movies, The Last Shark and Deep Blood instead of building their own shark is not cool.
Kevin Bartholomew
Cruel Jaws Quotes
There are no approved quotes yet for this movie.