Cruel Intentions
(1999)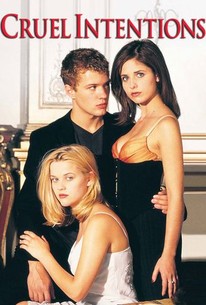 Movie Info
Kathryn and Sabastian, two wealthy, manipulative teenage stepsiblings from Manhattan's uppercrust, conspire in Cruel Intentions, a wickedly entertaining tale of seduction and betrayal. The stakes are high when the duo agrees upon a deliciously diabolical wager of sexual conquest without consequences. The pawns? The naïve Cecile Caldwell and the virginal Annette Hargrove. It's summer break, and Kathryn has been dumped by her beau, Court Reynolds, for the innocent Cecile, Desperate to get even, Kathryn challenges Sebastian to ruin Cecile by deflowering her and turning her into a tramp-thus humiliating Court by delivering Cecile to him as damaged goods. Sebastian has pretty much 'had' all the girls in New York City up to this point, and he's gotten a bit bored of it all. Though this is too easy a conquest for him, he obliges. He sets his sights on a greater challenge-the new headmaster's daughter, Annette, who recently wrote an article in Seventeen Magazine about how she intends to stay pure until she marries her boyfriend. Sebastian bets Kathryn that he can seduce the chaste an pristine Annette before school begins in the fall. Kathryn thinks this feat impossible and quickly agrees to the wager. The stakes: if Sabastian succeeds, Kathryn must give him a night of unbridled biblical, something he's wanted since he's their parents got married. If he fails, he must forfeit his priceless 1956 Jaguar to Kathryn and suffer the shame of defeat.
People Who Like this movie also like
News & Interviews for Cruel Intentions
Critic Reviews for Cruel Intentions
Audience Reviews for Cruel Intentions
Cruel Intentions is a pretty interesting teen drama comedy. I wasn't sure about wanting to see it, however I finally did, and was surprised. The film has a good enough cast that keeps the material working, and the cast deliver some good performances. The film is both funny and demented and at times dramatic, and the film is fairly underrated. The film is of course not perfect, but for what it is, it manages to be a good, entertaining hour and a half. What made this film worth watching was Selma Blair as Cecile; she definitely gave the funniest performance of all. Sarah Michelle Gellar was great as Kathryn. She really gave a cruel, uncaring performance, and she definitely delivered in that respect. Cruel Intentions is a well made teen film that is much better than one might think. The film is funny, and has a good cast at hand. I enjoyed many of the cast here, and I thought they each brought something special to the screen. There are things that could've been done better, but for what it is, Cruel Intentions works well enough to keep you interested and entertained, sure the film at times is so-so, but there are plenty of good things going on-screen to enjoy. This is a different and refreshing type of teen comedy/drama film, and like I said, I didn't expect to like it. The cast make this film watchable, and add to that a pretty clever script, and you have a good little film. There are plenty of good, memorable moments on-screen, with plenty of funny bits. An underrated film.
Captured our imaginations when we were teenagers.
Letitia Lew
Super Reviewer
Heartbreaking! Exceptional acting from all the cast. One of my all time favourite films!
Bethany Murphy
Super Reviewer
Cruel Intentions Quotes
| | |
| --- | --- |
| Kathryn Merteuil: | My advice is to sleep with as many people as possible. |
| Cecile Caldwell: | But that would make me a slut, wouldn't it? |
| Kathryn Merteuil: | Cecile, everybody does it; it's just that nobody talks about it. |
| Cecile Caldwell: | So, it's like a secret society? |
| Kathryn Merteuil: | That's one way looking at it. |
| Kathryn Merteuil: | [under her breath] Fucking idiot... |
| | |
| --- | --- |
| Sebastian Valmont: | It's not like you have a husband - unless you're married to Jesus. |
| | |
| --- | --- |
| Kathryn Merteuil: | Unfortunately, our Don Juan is moving with the speed of a Special Olympics hurdler. |
| | |
| --- | --- |
| Kathryn Merteuil: | Who are you spying on? That her? |
| Sebastian Valmont: | Yeah |