The Cruel Sea
(1953)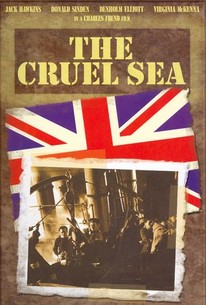 AUDIENCE SCORE
Critic Consensus: No consensus yet.
Movie Info
With the look and feel of a documentary, this riveting British WW II-set drama centers on the exploits of the Lt. Commander of a corvette, a small but speedy British Royal Navy warship. He is a man consumed with guilt after his ship, the Compass Rose is torpedoed by a U-boat, causing the deaths of many crewmen. Later he is on his new ship when he finds himself faced with a life and death situation upon the ruthless ocean. The plot is based on a novel by Nicholas Monsarrat.
Rating:
NR
Genre:
, ,
Directed By:
Written By:
In Theaters:
On DVD:
Runtime:
Studio:
Eric Ambler
Critic Reviews for The Cruel Sea
There are no critic reviews yet for The Cruel Sea . Keep checking Rotten Tomatoes for updates!
Audience Reviews for The Cruel Sea
½
Without a doubt, one of the best depictions of life aboard a ship during combat. Most people will never serve aboard a naval vessel and there is no better screen depiction of "tin can" sailors that has yet been made. It is as close as most people will ever get to experiencing general quarters, and as such should be viewed. This is the story of the men and the ships that made everything else that followed during WWII possible. It's not a flashy story. It's muted, and grainy, and grey, just like life aboard a ship. The story follows Commander Ericson, believably portrayed by Jack Hawkins, trying to whip his inexperienced officers and crew into shape for North Atlantic convoy duty. The story details the seemingly futile efforts of escorting merchant shipping early in the war, the heart wrenching rescue and recovery efforts performed by these escort vessels, the prosecution of antisubmarine warfare, and ultimately to a new command where all the men are now veterans. The movie accurately addresses the many obstacles the officers and crew must overcome to be successful in their combat operations against the German wolf-packs that were wreaking havoc on the tenuous lifeline the convoys provided to the British Isles. Detailing the frustrations of fighting an unseen enemy that seemingly attack at will, while simultaneously battling nature makes for a compelling story.
Greg Hill
A very fine film. Covers pretty much what you would expect from a WWII naval movie, but does it all pretty well. Most impressive was the first-rate photography, much better than I expected from a cinematographer I'd never heard of, on a film I wasn't aware of until a few days ago. Most viewers under 40 will recognize Denholm Elliot as Dr. Marcus Brody from the Indiana Jones series.
Martin Teller
½
The Cruel Sea is a seafaring drama set during WWII, following an escort ship and its crew battling German U-boats. It's very much a film of its time; the propaganda element is heavy, the enemy unseen for the vast majority of the time, and it's full of stiff upper lipped officers throwing in with the working classes. For this reason, it seems very dated, and the scenes on shore consist of the usual kitchen sink soap opera melodrama. British stalwarts Jack Hawkins and Donald Sinden put in decent performances but it's lacking any real star presence and some ham fisted direction (particularly the voice over flashbacks) damages the film's authenticity. It is interesting to see the nuts and bolts of how such a ship was operated and the battle scenes are believably realistic, but I can't see this being of much interest to any but military historians and the nostalgic.
The Cruel Sea Quotes
There are no approved quotes yet for this movie.
Discussion Forum
Discuss The Cruel Sea on our Movie forum!