Cuba
(1979)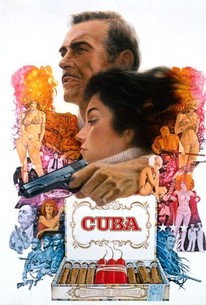 Movie Info
In director Richard Lester's Cuba, Sean Connery plays British soldier-of-fortune Robert Dapes, sent to Havana during the last days of the Batista regime. He is supposed to train Batista's soldiers for their upcoming confrontations with Castro's followers. As Dapes becomes increasingly sympathetic towards the rebel cause, he takes a few precious moments to renew his romance with Alexandra Pulido (Brooke Adams), who is now married to Juan Pulido (Chris Sarandon). The basic thrust of the film is that unchecked capitalism is perfectly capable of collapsing under its own weight -- and that lofty idealism can be easily forgotten once absolute power is within one's grasp.
Rating:
R
Genre:
, , ,
Directed By:
Written By:
In Theaters:
On DVD:
Runtime:
Studio:
Holmby Pictures
Audience Reviews for Cuba
An attempt to show the life of rich Cubanos in the days leading up to Fidel's revolution. A documentary would probably be more interesting.
Christopher Bergan
Capitalizing on Sean Connery's Fame as 007, he didn't depart much from that role , as he is a British Mercenary for Hire here.A somewhat Elegant Film with Superb Cinematography that offers glimpses into Local Customs, Rebel Cause & Effect, & The Excesses of the Powerful,such was life in 1959 Cuba.Quite interesting to tour the Cigar & Rum factories along with the slimey ,Jack Weston, as Gutman.Also quite interesting glimpse into the extent of what extremists, the Rebels ,were under the Batista regime, even if they did take liberties with the History.Sean Connery as Robert Dapes looses his Tough Guy Mercenary focus, when he is reunited briefly with the Love he lost 15 years earlier, Alexandra(Brooke Adams) who is now married into the most powerful family in Cuba, & is unwilling to give up her life of Luxury & Prominence for him.I enjoyed this Film very much.
Marilee Aschwanden
½
From what I didn't sleep through, I saw excellent direction. But, I fell asleep, so therefore, I cannot review this film.
Richard Dempsey
Cuba Quotes
| | |
| --- | --- |
| Robert Dapes: | I'm not asking you to go on a holiday! |
| Alexandra Pulido: | Don't shout. [pours some coffee] Robert, it's very nice of you, and I know what you're saying. But I don't really know you, do I? You knew me when I was a silly girl of fifteen... |
| Alexandra Pulido: | Don't shout. Robert, it's very nice of you and I know what you're saying. But I don't really know you, do I? You knew me when I was a silly girl of fifteen. |
| Robert Dapes: | Seventeen! |
| Alexandra Pulido: | [deep breath] ...fifteen. I fell in love with a handsome British soldier; you know what I remember most about you? Your knees! |
| Alexandra Pulido: | Fifteen. I fell in love with a handsome British soldier. You know what I remember most about you? Your knees! |