Curse of the Crimson Altar
(1970)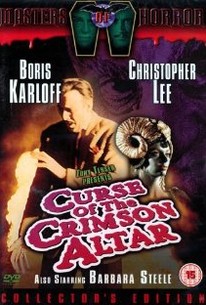 AUDIENCE SCORE
Critic Consensus: No consensus yet.
Movie Info
In this spooky thriller, an evil sorcerer invites an innocent young man and his girl friend to his dark and scary mansion. The two have no idea that the black magician is planning to sacrifice the young man to atone for the evil misdeeds of his ancestors who 200 years ago burned the wizard's relative, a witch, at the stake. A crazy party precedes the gruesome ritual. Fortunately for the young couple the sage Professor March (80-year-old Boris Karloff in one of his final films) is also a skilled magic maker and is there to save them. The film is also titled Curse of the Crimson Altar and The Crimson Altar. ~ Sandra Brennan, Rovi
Critic Reviews for Curse of the Crimson Altar
All Critics (1) | Fresh (0) | Rotten (1)
Better direction would have benefited a film that nevertheless offers modest thrills for genre devotees.

Audience Reviews for Curse of the Crimson Altar
½
Boris Karloff might pop up any minute. Robert Manning's family owns a large estate in the south and his brother, Peter, goes to visit it one day and turns up missing. Robert heads to the house to find his brother and notices strange behavior by the local youth. He meets two eerie old men that tells him the tale of the city's strange path and a witch who was burned alive there. Today is the anniversary of her death and strange things seem to happen around this time of year... "No excitement. I see naked girls running through the bushes every night of my life." Vernon Sewell, director of The Blood Beast Terror, Terror Ship, Ghost Ship, The Silver Fleet, House of Mystery, and Wrong Number, delivers Curse of the Crimson Altar. The storyline for this picture is fairly predictable and doesn't contain too many horror scenes or eerie elements. The cast is solid and does a great job and includes Christopher Lee, Boris Karloff, Mark Eden, Barbara Steele, and Michael Gough. "The devil is not exactly noted for his sense of humor, and he never sleeps." I am a huge Karloff fan and found this movie on Netflix and gave it the old college try...it didn't work out. This movie is well paced and had some potential, but there really were not any scary or intense scenes. This is just a bad 'B' horror film that really isn't worth your time, other than to see Lee and Karloff in a movie together. "No painting below the belt." Grade: D+/C-
Kevin Robbins
½
I had been putting off watching this for quite a while, as I often find it difficult to enjoy vintage horror films for various reasons. But I finally got around to it, and my initial vibe was pretty much justified. The costumes are nice and interesting, especially that of the witch Lavinia, but overall the story is very average. There are some effective elements, and a few self-aware moments, but they aren't as well handled as they could've been, and the characterisation and dialogue is pretty weak. The psychedelic effects vary in effectiveness, and the witch room 'dreams' are rather striking if not frightening. Overall the film is a bit dull and rather dated, but it's worth a look for the vintage horror fans, especially for the twin casting of Christopher Lee and Boris Karloff.
½
Well, this is certainly not a good film, but I do like a bit of low budget horror flicks now and again. Pretty much as soon as the film starts we are greeted with a quote from some entirely fictitious medical journal, "...and drugs of this group can produce the most complex hallucinations and under their influence it is possible by hypnosis to induce the subject to perform actions he would not normally commit". Apparently this was put there at the last minute to cash in on the late 60s drug phase, it certainly has nothing to do with the actual plot, the fluorescent green and pink titles is about as psychedelic as it gets. After this it cuts to some weird ritual involving a witch which is actually Barbara Steele done up in green body paint and wearing horns. Surrounding her are a couple of virgins and a leather wearing couple with whips, this is a sacrifice afterall. Throughout the film there are a couple of other scenes involving Barbara Steele and her menagerie, which are probably the most curious scenes. The rest of the story is pretty bland, it involves a man, looking for his missing brother, who visits a remote house which is where he was last seen. Christopher Lee stars as the suspicious owner of the house, who, I would just like to mention, ends up hypnotizing people with a rotating lampshade! His niece also lives in the house with him, unaware of the strange going ons. She doesn't really do much except for throw a hilarious looking wild party. Apart from this you've got the great Boris Karloff as well (at one point, when talking about how the house looks like it's from a horror film, the lead even says "It's like Boris Karloff is going to pop up at any moment.") There is definitely nothing special going on in this film, but it's interesting to see just the once.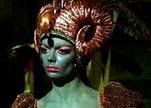 Curse of the Crimson Altar Quotes
Discussion Forum
Discuss Curse of the Crimson Altar on our Movie forum!