La Malédiction d'El Charro
(2005)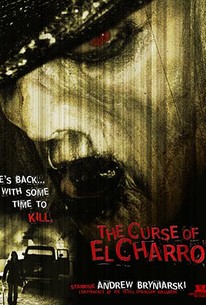 AUDIENCE SCORE
Critic Consensus: No consensus yet.
La Malédiction d'El Charro Photos
Movie Info
Lors des vacances au Mexique, quatre filles sont terrorisées par l'esprit diabolique d'El Charro, un meurtrier du 18e siècle. Avec Andrew Bryniarski, Danny Trejo et Heidi Androl. Réalisé par Rich Ragsdale.
Critic Reviews for La Malédiction d'El Charro
All Critics (2) | Fresh (0) | Rotten (2) | DVD (3)
A nonsensical supernatural horror film void of any direction and pure suspense...

You have to sit through a whole lot of migraine material to get to the goods.

Audience Reviews for La Malédiction d'El Charro
So very boring...I watched solely because Danny Trejo was listed as a star, only to find out he was the voice of El Charro for maybe 2 seconds at the end. What a waste. I fast-forwarded through a good portion of the second half.
Kaitie Dever
This reeks of a pompous, student-ish attempt at filmmaking, with all the accompanying, hackneyed cliches you'd expect. And this is coming from someone who watches enough Showtime Beyond to have developed a tolerance for B-grade sci-fi and horror. There are a number of aimless plot twists and the random introduction of characters who contribute nothing to the plot. This was undoubtedly meant to create atmosphere, but it simply comes off as pointless. There is no character development whatsoever, and each and every character in this movie remains an unlikeable, one-dimensional caricature for its duration. Because of this you can't really relate to, or empathize with any of the characters, let alone feel any satisfaction when they meet their gruesome ends. And what is Danny Trejo doing lending his voice to this piece of cinematic garbage? I hope he has a new agent.
Aaron Hilbun
a movie that is bad at everything. so bad its not scary but its sooo bad bad that its not even funny... its just crap. bad acting, bad effects, bad make up, bad music, bad story telling. i couldn't believe at the end of the movie an angel apperas to save the day... wow. this movie is crap. stay away... horrible costume design. to much profanity which is unneeded. idiot college girls... just everything was wrong..
Vincent Tilghman
Super Reviewer
La Malédiction d'El Charro Quotes
There are no approved quotes yet for this movie.
Discussion Forum
Discuss La Malédiction d'El Charro on our Movie forum!