D3: The Mighty Ducks
(1996)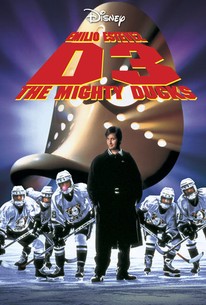 D3: The Mighty Ducks Photos
Movie Info
Everybody's favorite underdog youth hockey team hits the ice for a third adventure in D3: The Mighty Ducks. This time out, the Ducks' improbable success under lawyer-turned-hockey player Gordon Bombay (Emilio Estevez) has earned the group of misfits a certain degree of fame, and the entire team is given scholarships to attend Eden Hall Academy, an upscale private school with a rich and snobbish student body. The Ducks are dismayed to discover that they have a new coach, Ted Orion (Jeffrey Nordling), and they soon learn that, as freshmen, they get precious little respect from the Varsity team, and the team's melting-pot lineup makes them stick out like a sore thumb in the white, upper-class surroundings of Eden Hall. However, by the film's final reel, the Ducks will have taught their fellow classmates a lesson about teamwork and overcoming adversity. This proved to be the last film in the Mighty Ducks series, but it was followed by an animated television series that improbably turned the team into hockey stars from another dimension.
People Who Like this movie also like
Critic Reviews for D3: The Mighty Ducks
Audience Reviews for D3: The Mighty Ducks
Third entry in Disney's The Mighty Ducks franchise is a bad, unimpressive third film that really scarps the bottom of the barrel of ideas. This film is terrible, unimpressive with a bad cast, poor story and poor directing. D3 is the worst film in the series, and it's clear that there is nothing good about this film, and it's soul purpose for its existence was to cash in on the success of the first film, and they studio felt the story needed some sort of conclusion. Well this is a sad conclusion. Fans of the first film will be disappointed with this film as it doesn't have the amusing aspects of the first film, and it is a mess. This is a tired film of which a franchise is starting to show its age. This is a terrible, pointless film that unfortunately doesn't do anything whatsoever for fans of the first film, and overall D3 is a very bad film that should never have been made, but of course it was made only to cash in on the success of the first, and it shows how greedy studio executives can get; because with this film they delivered a piece of garbage and they made a lot of money off of it, instead of focusing on a quality story, they rushed it, and made an awful film with nothing good about it. This is simply put an awful third entry of which you shouldn't waste your time on. This film is simply a waste of time and money. As far as uninspired films are concerned, D3: The Mighty Ducks is one of the prime examples of such a film.
I could give a pass to the first one, and yeah, even the second one, but not this. I'm glad they stopped after this one, but even here it's hard to continue to care about the story. If you thought that the fact that half of Team USA from the second one was made up of members from one pee wee team was ridiculous, then tryi buying into the twists here (namely how the Ducks all manage to stick together and how Portman comes into the story. Even when I first saw this I knew it wasn't that good. Now imagine how I feel that I'm older and actually have gotten into film.
Chris Weber
Super Reviewer
The weakest of the series, but I think it was mainly due to the fact that Emilio Estevez was reduced to having nothing more than a cameo appearance. The child actors are really good, especially Joshua Jackson who grew throughout the whole series. While it doesn't really know what to be in terms of tone, it's a fun movie none the less.
Conner Rainwater
Super Reviewer
D3: The Mighty Ducks Quotes
| | |
| --- | --- |
| Coach Ted Orion: | We are here for one reason and one reason only. You know what that is? Starts with a W. |
| Averman: | To Win sir!!! |
| Averman: | To win, sir! |
| Coach Ted Orion: | No. Work. |
| | |
| --- | --- |
| Coach Ted Orion: | what do all great teams have in common? |
| Averman: | Great coaching? |