D Tour
(2009)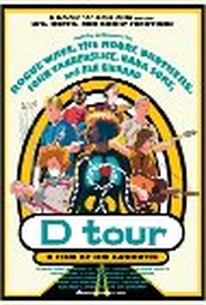 AUDIENCE SCORE
Critic Consensus: No consensus yet.
Movie Info
Pat Spurgeon is the drummer and keyboardist with the acclaimed indie rock band Rogue Wave. While Rogue Wave aren't in danger of becoming major stars anytime soon, the group has a loyal and growing fan base, the respect of their peers and a stack of enthusiastic reviews attesting to the strength of their work. But Spurgeon has one other thing that sets him apart from most other hard-working musicians -- kidney disease. Spurgeon has been living with his condition since he was a child, and has only one kidney that's beginning to fail; he's on a waiting list for a transplant, but a donor isn't expected to become available for six years. In the meantime, Spurgeon has learned how to use a portable dialysis kit, but it requires the sort of clean conditions that aren't easy to find for a small-label band touring on a budget. But music is Spurgeon's greatest passion in life, and as Rogue Wave's music begins to reach a wider audience, he's determined to keep up with their busy schedule, even as his bandmates worry about how the rigors of the road will impact his diet and health regimen. Filmmaker Jim Granato follows Spurgeon and Rogue Wave as they make music and make the best of Pat's heath issues in the documentary D Tour (not to be confused with a similarly titled film on Tenacious D). The film was an official selection at the 2009 San Francisco International Film Festival (a stone's throw from the band's hometown of Oakland) and won the festival's Golden Gate Award for Best Bay Area Documentary.
Critic Reviews for D Tour
All Critics (2) | Fresh (2) | Rotten (0)
Granato does a fine job of pulling all the disparate elements of the situation (including one terribly sad but ultimately uplifting twist) into a cogent, gripping and educational narrative.
Audience Reviews for D Tour
½
Pat is positive almost to a fault. I have a feeling that if we knew each other, even before his operation, he would think I'm a real negative bitch. That would be true, of course, and I would hold Pat no ill will for not wantint to hang with me. So Pat's story is one that I can find inspiration in, even if I know that my own story- should I ever be in a similar predicament, would be less inspiration and more pee. To watch Pat in his documentary take his chances on the road while fighting with a dialysius diet for his failing kidneys. To have his friend Evan support him on the journey, even with getting his wife to assume a donation pledge, just adds to the inspiration. Seeing a support of awesome friends and family to help the journey along. Evan's clips are the most entertaining. His humor is something that I'm sure drove him through almost all of his situations. To see him complete the circle of the organ donation story is as tragic as it is perfect. Makes you wish though, that it would happen to lesser people.
Nik Browning
D Tour Quotes
There are no approved quotes yet for this movie.
Discussion Forum
Discuss D Tour on our Movie forum!